Adventure Time Spinoff Will "Drive the Knife Into" Hollywood's Most Annoying Trend
Fionna and Cake showrunner Adam Muto answers our pressing questions about the upcoming miniseries.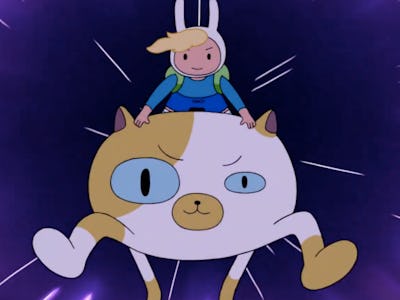 Max
It's possible that in some alternate reality, science fiction fans aren't constantly being subjected to multiverse stories. But that's not the reality we're living in. Every major franchise from Marvel and DC to A24 and Invincible is getting in on the parallel universe trend. Next up? Adventure Time.
The beloved Cartoon Network show officially ended in 2018, but it's been resurrected with a series of streaming spinoffs. In August, fans will be treated to the latest entry, Fionna and Cake, and according to showrunner Adam Muto, it's yet another multiverse story — with a twist.
"This series is kind of involving a multiverse element to it because Fionna and Cake are from an alternate universe," Muto tells Inverse at a San Diego Comic-Con press event. "We're kind of leaning into that and using the multiverse we've established on the show. So we really want to drive the knife into it and kíll it."
For the unfamiliar, Fionna and Cake are the gender-bent (and, in the case of Cake, species-bent) versions of Adventure Time protagonists Finn and Jake. Instead of a boy and his magic dog, this girl and cat duo inhabit a funhouse mirror version of the show's Land of Ooo setting.
The characters originally debuted in Adventure Time Season 3 Episode 9 (2011) written by Adam Muto and also titled "Fionna and Cake." The story dropped audiences into an unexplained adventure with Fionna and Cake before finally revealing that the entire episode was actually taking place within a piece of fan fiction written by recurring villain the Ice King. (This is the kind of ridiculous plotline that makes Adventure Time so special.) Fionna and Cake appeared in various subsequent episodes exploring the world they inhabited further, eventually blurring the line between fan fiction and parallel universe.
Billed as a miniseries, Fionna and Cake arrives on Max in August. In a press release, Warner Bros. Discovery shared an official synopsis:
"Fionna and Cake – with the help of the former Ice King, Simon Petrikov - embark on a multiverse-hopping adventure and journey of self-discovery. All the while a powerful new antagonist determined to track them down and erase them from existence, lurks in the shadows."
But beyond the whole multiverse question, Muto also answered perhaps the most pressing question fans may have about Fionna and Cake: Will Finn and Jake show up?
"We do still kind of show a snapshot of them where they're at," Muto confirmed, "because it didn't make sense to not show them at all. And we also want to see what the contrast is between Finn and Jake and Fionna and Cake's dynamic. So, yeah, expect to see some versions of them."
Fionna and Cake is streaming on Max starting August 31.