Exorcist: Believer's Ending Explained (and Does it Have a Post-Credits Scene?)
Executive producer Ryan Turek unpacks that surprise cameo.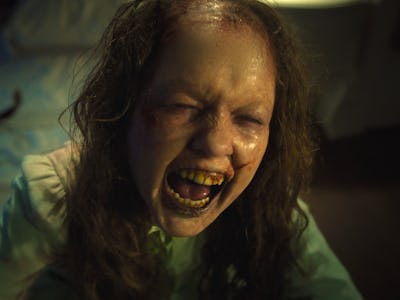 The long wait is finally over. Just in time for spooky season, The Exorcist: Believer has arrived in theaters. Unfortunately for fans of William Friedkin's beloved horror classic, this Blumhouse reboot doesn't exactly stack up. But if you just watched the movie and you're looking for answers about that twist ending (or you're skipping the movie but still want spoilers) we've got you covered.
Here's everything you need to know about the ending of The Exorcist: Believer, including the true meaning of a surprise cameo and whether there's a post-credits scene.
Warning! Major spoilers for Exorcist: Believer ahead!
The Exorcist: Believer Ending Explained
A few things happen at the end of this movie, so let's run through the key points before getting to the final reveal. The exorcism itself has a bittersweet ending. Out of the two possessed girls (Angela and Katherine), one survives but the other does not. During the exorcism, the demon demands that they choose which girl will survive. Initially, the group refuses to give in. But in a moment of weakness, Katherine's dad shouts, "I choose you, Katherine!" Of course, this was a trick. Katherine dies and Angela survives.
But that's not the actual ending. In a final scene, we return to Chris MacNeil (Ellen Burstyn), who gets sidelined earlier in the movie. But Burstyn, who starred in the original Exorcist, isn't the only actor here from the 1973 film. As the movie ends, her estranged daughter Regan (Linda Blair) returns to hug her mom.
It's a beautiful moment, but what does it mean for the future of the franchise? A sequel titled The Exorcist: Deceiver is reportedly in the works, but Believer's executive producer Ryan Turek tells Inverse we shouldn't necessarily expect the new movie to focus on Regan's return.
"I'm going to refrain from going too deep into that," Turek says. "I'll just say that, to me, it's a beautiful coda of a mother and daughter being reunited. You just never know where the future lies right now."
Does The Exorcist: Believer Have a Post-Credits Scene?
If you're wondering whether you need to stick around after the credits roll on Exorcist: Believer for one last scare, the answer is no. This movie has no post-credits scene. So feel free to get up and leave the theater right after that heartfelt mother-daughter reunion.
The Exorcist: Believer is in theaters now.
This article was originally published on