Warner Bros. Just Revealed HBO's Response to The Mandalorian
The series of knight adventure novellas are getting the spinoff treatment for Max.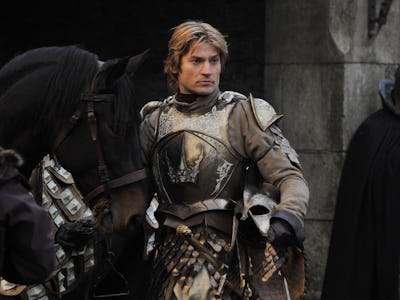 The power dynamic at Warner Bros. Discovery is shifting. After an extremely tumultuous transition resulting in completed movies being written off and huge shows being ousted from streaming altogether, it looks like the company is finally merging its two separate series: HBO Max and Discovery+. Together, the streamers will simply become Max, and with that announcement came a slew of new series announcements — including a Game of Thrones spinoff that will change the format of its universe forever.
Per The Hollywood Reporter, Max announced that Game of Thrones' Dunk and Egg series officially received a series order. The series, which follows a knight and his squire on a series of adventures some 90 years before the events of Game of Thrones, will actually be titled A Knight of the Seven Kingdoms: The Hedge Knight.
The Dunk and Egg novellas consist of three separate stories, The Hedge Knight, published in 1998, The Sworn Sword, published in 2003, and The Mystery Knight, published in 2010. The three stories were published together in 2015 under the title A Knight of the Seven Kingdoms, meaning that this initial series would only cover the first book, with subsequent seasons covering the rest. (Knowing this franchise's history, there may be even more adventures in store.)
The series follows a knight, Ser Duncan the Tall, and his squire Egg (the future King Aegon V Targaryen) as they encounter various adventures. A hedge knight is, essentially, a freelance knight who isn't pledged to any master and is often a nomadic wanderer, with these novellas following their journeys all across Westeros.
Curiously, this series seems incredibly different from the existing Game of Thrones shows. Though there are some distant connections (Egg is technically Rhaenyra's great-great-great-great-grandson and Danaerys' great-grandfather) these stories don't have the same focused political plots or looming supernatural threats of their predecessors. They're stories of the classic chivalric tradition — think medieval epics like Le Morte D'Arthur.
The Inverse Analysis — In adapting these fairly aimless stories, that means this series will probably less like Game of Thrones and House of the Dragon and more like "lone wolf and his cub" shows like The Mandalorian and The Last of Us. Both series involve characters with strong senses of morality and honor who travel with a companion on a mission that serves the universe as a whole. But this series may still be more serialized than the simple episodic narratives of Mandalorian.
It's clear that Max can do this style of series, so it wouldn't be that much of a risk. Now, we just have to wait and see if Pedro Pascal gets cast as Duncan the Tall. At 5'11", it'll probably only happen if they change the name to "Duncan the Slightly-Above-Averagely-Heighted."