Doom Patrol and Titans' cancellations mark the end of DC's best era of TV
Sandwiched between the Arrowverse and James Gunn's DC, Titans and Doom Patrol allowed the DC Universe to be weird.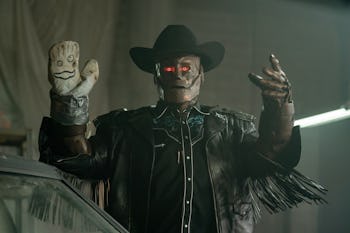 HBO Max
The DC Universe is changing before our eyes.
On January 25, Variety reported that Warner Bros. Discovery-owned shows Titans and Doom Patrol, both based on DC Comics, will end after their upcoming fourth seasons. Originally produced for the short-lived DC Universe streaming app, the shows migrated to HBO Max where they will conclude on the platform.
A spokesperson for HBO Max confirmed to Variety the end of Titans and Doom Patrol, saying: "While these will be the final seasons of Titans and Doom Patrol, we are very proud of these series and excited for fans to see their climactic endings."
No finger-pointing should be directed to DC Studios' James Gunn and Peter Safran, as Gunn confirmed on Twitter that the end of the shows were decided before his takeover of DC. "The decision to end the series precedes us. But I certainly wish the best for the talented group of creators, actors, and the rest of the crew that produced both shows," Gunn said.
While the end of any TV show is sad for fans and those who worked on them, the shows will have a cushy farewell with the chance to conclude their stories, rather than leave them unresolved. Both shows also made it to four seasons of over a dozen hourlong episodes, which is more hours of TV than most shows can boast.
What makes the end of Titans and Doom Patrol remarkable is what they represented in their debut. When Titans premiered in late 2018, and then Doom Patrol in early 2019, the shows marked a turning point from the past decade of superhero shows on basic cable. While DC shows like Arrow and The Flash commanded legions of fans, they were still youth-oriented melodramas of episodic plots where handsome stars were stuffed into pleather costumes.
To some degree, Titans and Doom Patrol had the same ethos. (Titans especially.) But free from the same restrictions of basic cable, there were times — many times in fact — when the DC shows were transgressive and provocative. They were delightfully surreal, with outlandish stories involving oversized cockroaches, group orgasms, moving anthems about queer liberation, and psychic neighborhood streets with they/them pronouns.
In concert with an HBO-like production value, Titans and Doom Patrol showed the superhero genre on TV on a higher plane of execution than fans were maybe used to. At the very least, Titans had a grown-up Robin (played by Brenton Thwaites) say "Fuck Batman," and that's still hilarious.
Titans was far from the best DC show, and a long-enough binge of Doom Patrol can wear out tolerance for f-bombs. But when they premiered, these shows strove to give fans something more. Among those things: Brendan Fraser. The first inklings of the beloved actor's current career comeback happened on Doom Patrol with his voice-over role as Cliff Steele, aka Robotman, a half-dead racecar driver turned dieselpunk android.
The DC Universe isn't going anywhere, in fact, the DC brand is historically known for cyclical creative reinvention. But between the end of the Arrowverse and the beginning of whatever Gunn and co. are cooking up, Titans and Doom Patrol held station for as long as they could. It's not quite the beginning of something new, but it is the end of an era.