6 Years Later, Doctor Who Is Giving Fans What They Want — But There's a Catch
Which season are we on again?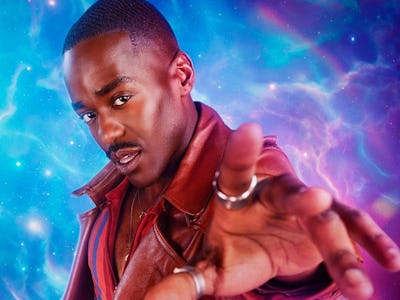 BBC/Disney+
Previously, Doctor Who fans believed three new adventures would be hitting screens in 2023, but now, there's confirmation of a fourth! For the first time in six years, Doctor Who will drop a Christmas Special episode, and, it seems this episode will be the first full adventure starring Ncuti Gatwa as the 15th Doctor.
There's just one strange detail. The subsequent 2024 Who season won't be considered Season 14. Instead, the new season following this year's Christmas special will be considered "Season 1." Here's what (we think) it all means.
Doctor Who 2023 Christmas Special: "The Church on Ruby Road."
On December 25, 2023, "The Church on Ruby Road," will drop, making it the first Doctor Who Christmas special since Peter Capaldi's swan song, "Twice Upon a Time" in 2017. During the Jodie Whittaker era, Doctor Who had holiday specials, but those aired on New Year's rather than Christmas. But with Russell T. Davies returning as showrunner for the first time since 2010's "The End of Time," it appears he is reinstating a Doctor Who tradition in more ways than one. Not only will this be a Who Christmas special, likely taking place during the holiday season itself, but it will also serve as the first proper adventure for an incoming Doctor, which was also the case way back in 2005 when David Tennant took over for Christopher Eccleston in "The Christmas Invasion."
After Tennant, the two subsequent modern Doctors — Matt Smith and Peter Capaldi — both regenerated during Christmas specials; Smith's "The Time of the Doctor," and Capaldi's aforementioned "Twice Upon a Time." Presumably, by the end of the third and final David Tennant November and December 2023 specials, the Doctor will regenerate into Ncuti Gatwa, meaning we won't have much of a wait between the 14th Doctor and 15th Doctor adventures.
Doctor Who 2023 airdates
So how does "The Church on Ruby Road" fit in with the other new Who specials debuting during the show's 60th anniversary? Well, this upcoming Christmas special is likely the start of a fresh new era, which may even see the introduction of the Doctor's new companion, Ruby Sunday, played by Millie Gibson. Because Gatwa and Gibson's first season together won't hit until later in 2024, this means that the beginning of the new era of Who begins a bit earlier than expected. Here's how this shakes out, specifically:
November 25, 2023 - "The Star Beast," special starring David Tennant and Catherine Tate.
December 2, 2023 - "Wild Blue Yonder," special starring David Tennant and Catherine Tate.
December 9, 2023 - "The Giggle," special starring David Tennant, Catherine Tate, and Neil Patrick Harris.
December 25, 2023 - "The Church on Ruby Road," starring Ncuti Gatwa and (probably) Millie Gibson.
Russell T. Davies has teased a bunch of other surprises throughout the trio of anniversary episodes, and many fans assume that several past Doctors will make cameos either in "Wild Blue Yonder" or "The Giggle." Davies himself has also teased that early footage of Ncuti Gatwa from the trailers released in 2022 has been modified to conceal the spoiler of a location where the 15th Doctor was standing. So, it stands to reason that Gatwa will appear in some way shape, and form during the three Tennant specials. There's also a precedent for this. In 2013's "The Day of the Doctor," Peter Capaldi's incoming 12th Doctor briefly appeared (well mostly his eyebrows) in a brief cameo, even though his first full season was roughly a year away at that point.
2023 Christmas special will reboot Doctor Who
So, because Jodie Whittaker's finale season was Season/Series 13, that means the upcoming Ncuti Gatwa era will be Season 14, right? Wrong. According to an interview with Davies in SFX, the new 2024 season will be re-branded "Season 1."
This happened before, in 2005, when Christopher Eccleston's first season in the revival of Doctor Who was referred to as "Season 1" (or Series 1 in the UK) rather than Season 27. Because the original run of Doctor Who ran from 1963 to 1989, the final Sylvester McCoy adventures as the 7th Doctor ended with Season 26. In between 1989 and 2005, there was the 1996 TV movie, Doctor Who, which starred McCoy as the 7th Doctor and Paul McGann as the 8th Doctor. Fast-forward to 2005, and you've got Season 1 with Eccelston, even though, at the time, older fans wondered why that wasn't just Season 27.
Which is kind of what is happening now. To be fair, the show tried to do this more recently with Matt Smith's first season, relabeling Series 5 as "Series 1," but it didn't take. But with Disney+ only having rights to the new Tennant specials and the Gatwa seasons going forward, and the rest of the show scattered across three different streaming services — BritBox for the classic era, Max for the 2005-2022 era, and Disney+ for all the new stuff — new fans might just gravitate towards the fresh start of a simple "Season 1."
But does that mean Ncuti Gatwa's Doctor Who Season 1 in 2024 will really be a reboot? Well, yes in the sense that Doctor Who always reboots itself with a new actor, but also no, because whatever happens in the three specials leading up to "The Church on Ruby Road," will be very, very much steeped in the long, wibbly wobbly traditions of the past.
"The Star Beast" kicks off the new era of Doctor Who on November 25.