2023's Strangest Viral Thriller Has Been 5 Years in the Making
Dear David director John McPhail explains why it took him so long to follow up Anna and the Apocalypse.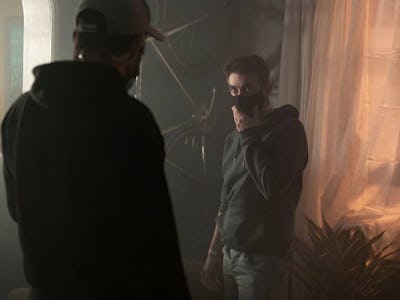 Lionsgate
John McPhail's career has been varied, to say the least. In 2017, the Scottish director burst onto the genre film scene with Anna and the Apocalypse, a Christmas-themed zombie apocalypse musical. It was a hard sell, but found its audience. "I think when you say those things, people go, 'Oh right, OK, yeah, I'm in.' Or 'I'm out, I'm out,'" McPhail tells Inverse.
Over the years, it's amassed a cult following and has even raised questions of a sequel. McPhail says he'd be open to revisiting the Anna and the Apocalypse universe — and he even has ideas for a sequel — but for now, he's satisfied with the fan response he's seen already. "I wanted it to be like Gremlins," he says. "I love Gremlins, it's my favorite Christmas movie. I put it on every year. And that was where I wanted it [to] hit."
Five years later, McPhail is back with an equally specific movie: Dear David, a horror movie based on Buzzfeed's Adam Ellis' thread depicting a terrifying haunting. Like Anna and the Apocalypse, it's a movie that's very self-aware of what it is: a chilling tale of the social media age, tinged with trolling and a healthy dose of comedy — much like Twitter itself.
McPhail spoke to Inverse about Dear David, Anna and the Apocalypse, and how ghost stories are the same thing as Twitter trolling.
This interview has been edited for brevity and clarity.
It's been more than five years since your last film. What drew you to Dear David?
John McPhail: I remember it happening, I remember reading through the Twitter thread and being glued to it like everybody else and gripped by it. And then I got the script and I was like, "I remember this, I remember this." I was drawn to Adam Ellis as a character. I thought, "Oh, this should be a lot of fun." He's funny, sarcastic, and in your face. I thought it was going to be a lot of fun, to create this character, and put him through this absolute misery.
I also suffer from sleep psychosis. It's terrifying, you feel like you can't breathe and it's constantly pushing pressure down on your chest and you can't speak, you can't scream. So that resonated with me in the thread. Trying to translate that onto screen was something that I really, really wanted to do.
Adam is not anything like your normal horror movie protagonist.
No! He's a funny cartoonist and he's really cynical. So why would this guy tell that story? I think that's what made the original Twitter thread for me feel real. Having that character be our protagonist, and take us through it, I thought this would be a lot of fun.
How did you go about directing what was a Twitter thread and making it into a feature film?
Well, there was a script from Mike Van Waes, so we took that and ran with it. There were a few changes along the way. Mike, when he was writing it, it was still going on. Justin Long in the third act is like, "So how does this end?" And Mike was thinking that at the time: "How does this end? How does this end?"
How did you approach adding the internet elements to such an online story?
The thing is, I could see a correlation between haunting and trolling. With a haunting, your home's supposed to be your sanctuary, it's your safe space, a safe place.
Trolling's like being invaded by a ghost, but it happens every day when you're an online personality because your phone's constantly buzzing in your pocket and pinging on your screen. You're just trying to create content for people and you're being judged upon it.
You can't get those comments out of your head or that thing that somebody said. And it just eats away at you, eats away at you. And then you're being terrorized. I thought this all aligns, this should be a bit of fun to play with.
Are there any similarities between Dear David and Anna and the Apocalypse?
Well, I directed both of them, and Naysun Alae-Carew produced both of them. There are those kinds of correlations. Obviously the comedy element, I love comedy and I love horror and I think that they just meld really, really well together.
How have you found the fan response to Anna and the Apocalypse? I only discovered it a couple of years ago and it's become a yearly watch for me ever since.
But that's the type of movie it is. We've always said it was a discovery movie. People would discover it over time. And that's what we love because when people love it, they shout about it from the rooftops, like, "You're going to watch this with me, you're sitting down and watching this." And that's the fun about it. We call them Anna-maniacs.
The boys who did the music, they went on to write music for Animaniacs. So it was just a really ridiculous, funny pun for us. People who love it love it. And as I say, we just appreciate it so much. It's the same with all films; the reason we make films is for people to enjoy and to share with people and have that shared experience and debate and discussion.
What genre are you more likely to revisit: horror, musicals, or both?
I just love telling stories about characters and I don't really care where it sits in genre. With Dear David, it's Adam Ellis, it's that character, it's that story. They're the ones that take you through it. And it's interesting characters. And with Anna and the Apocalypse, it was all fun teenagers. As long as the characters are fun and intriguing, then I'm all in.
Augustus Prew just threw himself into the character of Adam Ellis. For the first two weeks, we had him crying on his own in an apartment because we shot all the end first. So he was a real trooper, just having him crying. We had to send him to a spa day because he'd just been crying and screaming for two weeks.
Andrea Bang I've always wanted to work with and she was an absolute joy. Justin Long was a dream. I grew up watching Justin and he was just brilliant. And Tricia Black, who for me is the find of the century, she's so funny. I encourage everybody to go and just watch her Instagram, it's just the best.
If you could go back and add one thing to Anna and the Apocalypse, what would it be?
Nothing. David Fincher said that films aren't finished, they're abandoned because you would tweak until the cows come home. And I love it for what it is and every aspect of it. And the experience of it all. Same with every movie. You would continually cut, you would continually change, and you'd continually tweak and nothing would ever get done.
Dear David premieres in theaters October 13, 2023.