The Sequel to DC's Most Divisive Superhero Movie Gets a Promising Update
Max's Constantine is officially dead, but Keanu Reeves will be born again as the occult detective.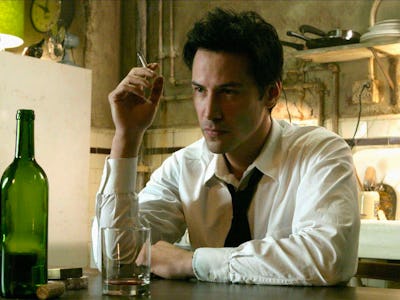 Warner Bros. Pictures
Keanu Reeves' Constantine occupies an interesting place in the comic book adaptation canon. It's certainly not the most faithful iteration of the Vertigo story — exorcist John Constantine is notably blonde and British, while Reeves is the complete opposite — which has invited a bit of controversy around the film, even decades later. The DC franchise has made attempts to move on from Constantine with more comics-accurate stories, both in a 2014 series and with a reboot long in development at Max. Bafflingly, though, it's become increasingly difficult to axe the project that started it all on the big screen. After the Reeves renaissance kick-started by John Wick, the actor is officially back as Constantine.
Reeves is set to return in a Constantine sequel, along with writer-director Francis Lawrence and producer Akiva Goldsman. Per Lawrence, a script has yet to be written, but he, Goldsman, and Reeves have been "hashing out" a potential story.
"Constantine 2 got obviously held up by the writers strike," Lawrence told GameSpot. "We had to jump through a bunch of hurdles to get control of the character again, because other people had control of the Vertigo stuff." Warner Bros. Discovery have been pursuing a sequel in earnest, however — and in 2022, it seemed like the studio had regained the rights to adapt Constantine's story in a new film. Constantine 2 has been in quiet development ever since.
"Keanu and Akiva Goldsman and I have been in meetings and have been hashing out what we think the story is going to be," Lawrence explained, "and there's more meetings of those that have to happen. The script has to be written ... [But we're] really hoping that we get to do Constantine 2, and make a real rated-R version of it."
An R-rated Constantine movie would certainly help smooth over any anxieties over a faithful adaptation, even if it comes at the expense of a separate show. Per Variety, the Constantine series in the works at Max is officially dead. It likely would have been a much more faithful adaptation of the comics: the series had been penned by a British author, and was apparently set in present-day London. Warner Bros. passed on the project back in 2022, though, around the same time Reeves' return as Constantine was first announced. Despite the prevalence of multiverses in every major comic book franchise, there only seems to be room for one demon-slaying magician moving forward.
He may not look or sound like the character most recognize, but Reeves has become the definitive version of Constantine, at least for now. Nostalgia is a powerful thing, after all — but Reeves, Lawrence, and Goldsman seem committed to honoring the character wherever possible. Constantine 2 could be a fun ride for DC fans, especially after so much confusion surrounding the new DC Universe.