How Michael Jai White Plans to Build a Blaxploitation Cinematic Universe
The 2009 satire could pave the way for a new era of Black-led comedies.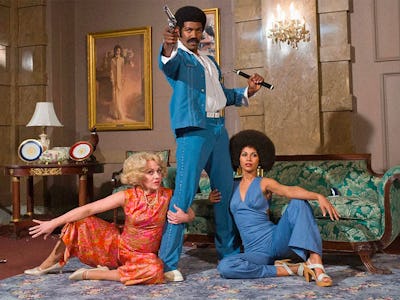 Apparition
It's been over a decade since Michael Jai White starred in Black Dynamite, the bombastic 2009 film that perfectly satirized the blaxploitation capers of the '70s. Though White is probably best known for his work in knock-down, drag-out action flicks, Black Dynamite might just be his most iconic role — if only for the way it allows the actor, writer, and martial artist to flex his muscles as a comedic force.
White served as a co-writer and a producer on Black Dynamite, but with his latest film, Outlaw Johnny Black, he takes on the role of director. The film explores another aspect of blaxploitation: westerns like Sidney Poitier's Buck and the Preacher, or Jim Brown's El Condor. White cites a handful of films directed by Poitier, as well as Eddie Murphy's late '80s comedies, as inspiration for Johnny Black.
"There's Uptown Saturday Night and A Piece of the Action, these movies that I grew up on," White tells Inverse. "Eddie Murphy, when he started doing his Coming to America [films] and Distinguished Gentleman and Harlem Nights, they rung very similar to me."
To White, this particular brand of movie is all but extinct, but is one of the most valuable all the same. "I feel like the movies that I love had a lot to offer," he continues. "They were layered with all kinds of different social statements [and] homages. That's what I wanted to do for this generation."
Outlaw Johnny Black represents White's second effort to bring back the Black-led comedies that defined his childhood, and he doesn't intend to stop there. While fans have been quietly anticipating a sequel to Black Dynamite, White has plans for a loosely-connected blaxploitation universe, one that starts with the 2009 film and ends up at the other end of the subgenre.
"When I first did Black Dynamite, I always had in mind about three or four movies that would be in this blaxploitation-esque genre," White explains. "One of 'em was Black Dynamite. The second was [Outlaw Johnny Black], and a third was somewhat of a foray into the horror movies of the time, like the Blacula type of thing. Then a very hyper kung fu-ish one called The Black Dragon."
White hasn't given too much thought to the other two films in this collection — "it's just something that I planned on for the future," he adds — but he ever does get around to this cinematic universe, it'd be a welcome addition to the industry's new push for Black-led films.
Hollywood has already returned to blaxploitation, in a way: films like BlackKklansman, The Harder They Fall, and They Cloned Tyrone have each paid tribute to the expansive genre in one way or the next. But the majority of these attempts take a serious approach to something that's always bordered on camp. With White's own satires, the pendulum is swinging back to the comedies of the '80s and '90s, specifically to Eddie Murphy's most iconic roles.
The filmmaker is turning blaxploitation back to its roots, and he's not the only one. Recent films like The Blackening aren't afraid to get silly with their central message. Its success proves that there's still an appetite for stories that don't take themselves too seriously. Hopefully White's own crusade can continue after Outlaw Johnny Black — if not through a cinematic universe, then perhaps with a sequel to Black Dynamite.
Outlaw Johnny Black hits theaters on September 15.