9 Years Later, A Divisive Director Finally Gets Back to His Spy Thriller Roots
Matthew Vaughn hopes to "reinvent the spy genre" again. Can he deliver the goods?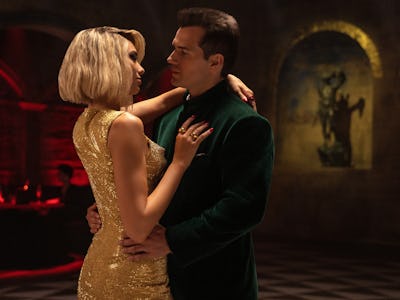 Apple
Director Matthew Vaughn is all but synonymous with the punchy, stylized, and oft-irreverent espionage thrillers of the 2010s. For all his success with the genre, though, he's certainly had just as many misses. Kingsman: The Secret Service was fantastic; its sequel, The Golden Circle, and WWI-era prequel, The King's Man, however, were something else entirely (bad).
Vaughn might be at his best when he sticks close to his source material. That's what made the first Kingsman such a hit, and the same could be said for Stardust and Kick-Ass. His latest film, Argylle, seems to be following that model: it's based on a yet-to-be-released novel by an elusive first-time novelist, Elly Conway. And based on its trailer, it's shaping up to be a promising return to form for Vaughn.
Bryce Dallas Howard stars as Elly, a best-selling author whose spy novels accidentally skew too close to real-life events. (That she shares a name with the source material's author is apparently a meta nod to its own plot.) When Elly becomes the target of a shady spy organization, it falls to good guys like Sam Rockwell's unassuming agent Aiden to keep her from their clutches.
Vaughn's rounded up another stacked cast for Argylle, and apart from Kingsman co-stars Samuel L. Jackson and Sofia Boutella, most of Vaughn's players are new to the genre. It's great to see Henry Cavill finding his way back to espionage, despite his character's unfortunate haircut. With the Man from U.N.C.L.E. actor onboard alongside Barbie alums John Cena and Dua Lipa, Argylle looks to be in great hands.
There are clear parallels to Vaughn's established style here, but Argylle may also allow the director to explore some of his subtler influences. Vaughn took inspiration from films like Charade and Romancing the Stone for the film, which means Argylle could be a little bit more than just another James Bond parody.
Argylle comes three years after Vaughn's last passion project, The King's Man. The film served as an attempt to marry Vaughn's love for history with his affinity for espionage, but it ended up a footnote for a flailing franchise. Fortunately, that hasn't stopped Vaughn from trying again with another potential franchise. The director hopes to "reinvent the spy genre" with Argylle, and with an Apple-backed budget of $200 million, he just might succeed.
Argylle hits theaters on February 2, 2024.