The Cult of Annie Murphy
The Schitt's Creek and Black Mirror star on her new animated series and which of her previous characters would make a good cult leader.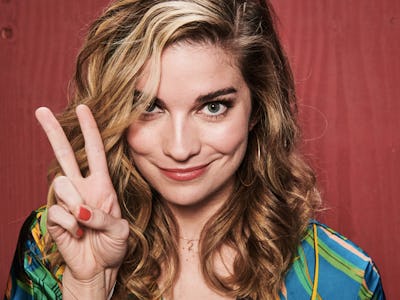 Deadline/Penske Media/Getty Images
Annie Murphy may be developing a type. After playing fabulously vapid yet charming Alexis Rose in Schitt's Creek, which saw her trying to keep up a big city lifestyle after her dad saddles her with living in a small town, she's now lending her voice to Petey, a young woman trying to keep up her big city lifestyle after her dad saddles her with living in a small town, in the Freeform series Praise Petey.
"I guess there's a certain theme to my career so far," Murphy told Inverse. "I was so excited to play Petey because there's a little overlap between Alexis Rose and Petey, so I knew it was in my wheelhouse."
That said, there's one big difference: Petey not only inherits a small town from her deceased dad, but also a cult, complete with human pets, minor celebrity sacrifices, and weird rituals. Alexis may have forged her own way in Schitt's Creek, but Petey's got to lead a town full of people looking to her to guide them.
Annie Murphy discusses cults, her new role, and Praise Petey's original title with Inverse.
This interview has been edited for clarity and/or brevity. This interview has been conducted prior to the SAG-AFTRA strike.
How does this show compare to your similar role in Schitt's Creek?
Annie Murphy: This show is just so beyond weird and so many things have ended up in the show that never in a million years would've made it into Schitt's Creek. And so I've had so much fun playing Petey, and working with Anna Drezen especially.
Did you do any research on cults for Praise Petey?
No, I didn't. I've watched my fair share of cult documentaries, I find it so fascinating. So I feel like I'd already done some research just for pleasure over the years, but gosh, it's fascinating material.
What's your favorite cult documentary?
The Jonestown one, I can't remember the name of it, but that one was so intense. And then what was the one that everyone loved from a few years ago?
Wild, Wild Country?
Yes! Actually, Praise Petey was called Wild Wild Petey for a very long time before they changed the name.
How does screen acting compare to voice acting to you?
It couldn't be more different, and I'm so glad that I got to experience it. When you're working in film or TV, you have to be natural, you have to be grounded. Even if you're playing a ridiculous character, there has to be some realism to it. With voice acting, you can go in in your sweatpants and crank it all the way up right away.
Oftentimes the directors are like, "Okay, can we do even more?" Which never happens in film and TV acting. You get to be big and over the top and ridiculous, and it's a lot of fun. I'm glad it's not recorded because I can only imagine the flailing that's happening. If this is how I talk naturally, it's just so over the top when I'm in the voice booth.
Do you think you're more similar to Alexis or Petey?
I think I'm more like Petey, because I could never picture Alexis shimmying and then apologizing. I can picture her shimmying, but she has a lot more confidence than I do. So I think Petey and I are kind of on the same page there.
If Alexis Rose had her own cult, what kind of cult would it be?
I think it would be a celebrity cult. I think she would wrangle every single person from every single one of her tales and escapades over the years, and she would be the leader and it would be a star-studded event.
Praise Petey premieres July 21, 2023 on Freeform.