Andrew Koji Fights Back
The Warrior star looks beyond to a potential Season 4 — and producing his own shows.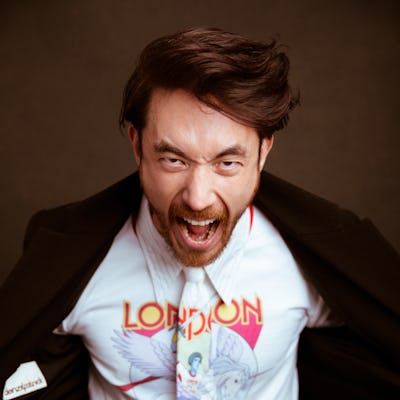 Photo by Stewart Bywater / Grooming: Jon Chapman / Styling: Ben James Adams
Andrew Koji is getting too old for this shit.
For three seasons on the acclaimed martial-arts crime drama Warrior, the 35-year-old actor has been getting pummeled, punched, and pulverized every which way. All the while, his character Ah Sahm — a martial artist who travels to San Francisco in search of his sister and gets caught up in the Tong Wars of the late 1870s — has become a local folk hero. The newfound fame earns Ah Sahm a glowing reputation in the frequently-ravaged Chinatown, but it also earns him a target on his back that forces him to fight all manner of axe-wielding gangsters and bigoted cops. Which, in turn, forced Koji to level up his fighting skills.
"The training's always tough," Koji tells Inverse in an interview conducted before the SAG-AFTRA strikes. "And getting older is always tough because I'm 35 now, and I know it's not old, old, but for that kind of level of action, it's a lot on the body."
Diving into production for Season 3 after a long Covid-imposed break made the aches and pains even tougher to weather. But Koji and the rest of the cast of Warrior used that break to inform their characters' headspaces in the third season.
"We all came back broken in different ways because of Covid," Koji says. "I think a lot of that matched with what happened with the riots at the end of Season 2, and that informed us emotionally."
"Warrior gave me a lot. It gave me confidence and belief in myself that I can do this. I have something to say and give in this field."
For Koji, the nearly two-year break between filming Warrior Seasons 2 and 3 made everything a little harder and slower. He couldn't perform flips and tumbles as well as he could when he was an agile 20-something. So for Season 3, which just aired its final episode, "A Window of F*cking Opportunity," Koji changed up his fighting style.
"There was a bit more Muay Thai," he says. "We focused a little bit less on the Wushu, the more performative [styles]. We did a lot of sparring, MMA kind of things."
This evolution in Ah Sahm's fighting style reflects the evolution in his character, Koji says. The character has evolved since he arrived in San Francisco, fresh off the boat and itching for a fight. Unlike the legendary Bruce Lee, whose concept for a martial-arts TV series back in the '70s was the inspiration for Warrior and for Koji's performance, Ah Sahm was not the most skilled fighter when the show began. He fights a little dirty, a little more unrefined than his opponents like Joe Taslim's ruthless Li Yong, whose skills have outmatched Ah Sahm's on more than one occasion. But over the course of the show's three seasons, and especially in the wake of his newfound fame, Ah Sahm is becoming a better fighter.
"He's got the lay of the land now," Koji says. "He's been humbled and he's finding something to fight for."
"I was a lot more feral back then."
Koji can relate. The British-Japanese actor had given up martial arts for eight years by the time Warrior rolled around. At that point, Koji had been trying to break into the film industry for decades. So when he landed the part of Ah Sahm, Koji was determined to keep it. "I was a lot more feral back then," Koji says. "I was just more like, 'Oh, I'm just going to go for it.'"
And go for it he did. Koji's performance in the first season of Warrior was dripping with swagger, anger, and a wild unpredictability that verged on mercurial. It was a star-making turn for the long-struggling actor, who finally started to get noticed by Hollywood, earning supporting roles in franchise starters like the G.I. Joe prequel Snake Eyes and the Brad Pitt assassin thriller Bullet Train. But Koji has no illusions about whether his newfound visibility would mean stardom overnight.
"Warrior gave me a lot," Koji says. "It gave me confidence and belief in myself that I can do this. I have something to say and give in this field. But even around this time, I'd be getting requests to audition for tiny parts and Asian henchman number four, or whatever."
Warrior came out at a watershed moment for Asian representation in Hollywood. Its first season premiered a year after Crazy Rich Asians kicked the door open for mainstream Asian-led projects, but its second season started airing at the height of the wave of anti-Asian violence during the Covid-19 pandemic — making the show's depiction of troubling racist violence hit a little too close to reality. But even through the tumultuous realities for Asians over the past four years, Warrior and the integrity toward its Asian cast maintained by creator Jonathan Tropper, and executive producers Justin Lin and Shannon Lee, have remained a gold standard for Koji. A standard that every other role is not living up to.
"I'm getting typecast already," Koji admits. "Action stuff is just being sent to me and nonsensical stuff, and I think it's a fight to get out of that for me — to try and not do those things or to try and do something quality and not something mind-numbing."
"Hollywood is just obsessed with telling the same old thing over and again."
"After this, it could just all be downhill for me," he jokes. "But at least for now [my experience on Warrior] makes me go, OK, I'd like to do stuff with integrity. And G.I. Joe really wasn't that, was it?"
His two biggest movie roles, in Snake Eyes and Bullet Train, didn't stray too far from the "martial arts badass" that Koji had already perfected with decidedly more nuance in Warrior.
"Hollywood is just obsessed with telling the same old thing over and again," Koji says. "Firstly, remakes. Secondly, it's got to be based on IP. Third, it's so absurd because I'm just like, hold on. People want originality. Where is it? What is going on here?"
Even though Koji has dipped his toes in the IP pool with Snake Eyes, he doesn't have much optimism for a sequel, even if Hasbro is apparently building towards a crossover with the recent G.I. Joe Easter egg in Transformers: Rise of the Beasts (which Koji says he knows nothing about).
"Snake Eyes didn't do too well, which I knew it wasn't going to," Koji says, cynically. "I think they're probably going to reboot from the ground up. I'm cool. I did like Storm Shadow Tommy. I found a way to love him and I think there would've been something to do … there would've been a really cool Storm Shadow film if they did it right."
As for his budding movie career, Koji has been getting a mix of "lovely" offers from producers who have watched Warrior, and others who … haven't. But he's no longer at the stage where he's satisfied with "Asian henchman number four." Inspired by his Bullet Train co-star Brad Pitt, whose Plan B production company has produced acclaimed films such as 12 Years a Slave, Moonlight, and Minari, Koji is ready to start developing his own movies.
"I'm hopefully getting to a point where I can go back to producing, and making my own work, and being part of the change I want to see in this morally declining industry," Koji says.
"Producing my own stuff is so fulfilling — creating something from the ground up where you have creative say..."
He's already gotten started. Koji teases a TV series that he began developing after Covid, a sci-fi conspiracy thriller "with some action elements and hopefully some meaningful social commentary" that he wants to be led by an Asian actor. He also hopes to develop a film, though he's even more tight-lipped on details, because of the ongoing writers and actors strikes. And there's always a potential Warrior Season 4.
"The cast and crew, we've got no idea if we're going to go back," Koji says. "But I think it will all be all dependent on how much of a splash this [season] can make."
Despite the troubled state of Warrior's current home, Warner Bros. Discovery's streaming service Max, the series has come back from the brink before. Warrior was miraculously renewed for a third season thanks to fan support after its initial network, Cinemax, folded. And Koji has a "gut feeling" that "we got a very good chance" for Season 4. But realistically, he hopes it gets the green light soon.
"If we did Warrior Season 4, that would be next year because everyone has to become free," Koji says. "It might not be until the middle of next year if we did, and I'm going to be getting old."
And there's that word again: "old." I remind him that 35 is far from geriatric, but Koji is insistent that he only has a few years left of this level of action. He compares the intensity of shooting Warrior to John Wick: "They've got weeks and days where they shoot stuff. We have to do stuff very fast, very intense, minimum recovery time. It does take a toll on the body."
It may be why Koji is already looking ahead to producing his own films and TV shows, and not having to put his all into getting his body back into shape, only to get beat up over and over.
"I do have a few films in me that I want to do," he says. "There's some characters that I could bring to life that I haven't seen someone looking like me do too much in the West. Producing my own stuff is so fulfilling — creating something from the ground up where you have creative say because as an actor there's a lot of times you're just a puppet and you have to fight for your own agency."
Warrior is streaming now on Max.