Star Wars Report Reveals a Big Change for One Underrated Villain
Andor's dark horse MVP candidate is failing upwards.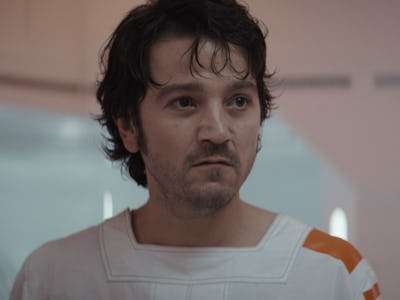 Lucasfilm
Andor introduced several new characters to Star Wars canon, from the beloved (looking at you, Kino Loy) to the ones we love to hate. While we know many won't appear for long as Cassian hops his way through the galaxy on the way to steal the Death Star plans, they're still an integral part of the story and make for great TV.
But somewhere in-between love and hate is a character who can't quite seem to get it together, and that makes the fanbase's feelings about him even stronger. It looks like he'll finally get what he wants in Season 2, even if it means trouble for Cassian.
According to Star Wars leak site The Bespin Bulletin, Andor Season 2 is currently filming in London's Canary Wharf, and actor Kyle Soller, who plays private sector security guard and failson Syril Karn, was spotted in an Imperial uniform. It looks like Syril finally got the promotion he always wanted.
Canary Wharf is where Andor films scenes set in the Imperial Security Bureau, the space-FBI where Dedra Meero worked to identify the burgeoning Rebellion led by a character known only as Axis. Now it looks like Syril — and his intense hate for Andor — will be her new sidekick.
Not only does it mean that Kyle Soller, and his character fans love to roll their eyes at, will return for Season 2, but it lends cohesion to the two halves of Andor's tale. Considering Andor Season 2 is set across four years, it's possible Syril's promotion was a long time coming. If so, Andor's planned time skips should pay off. We'd rather get right to Syril's next misadventure than watch him orient himself within the ISB.
It also makes sense that Dedra would need a new assistant, as her last one was bumped off in Andor's Season 1 finale. She wasn't exactly a fan of Syril, but the years can change people. At any rate, it's nice to see that Syril landed on his feet after having to move back home with Mom.
Andor Season 1 is streaming on Disney+.