Star Wars Canon Finally Explains Why Anakin's Force Ghost Looks Like That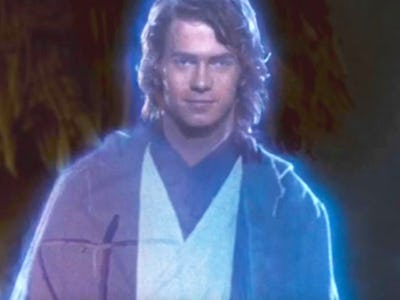 Lucasfilm
We may receive a portion of sales if you purchase a product through a link in this article.
Everyone knows that Anakin Skywalker became one with the Force after he saved his son from the Emperor in Return of the Jedi, but what a new Star Wars canon twist pre-supposes is, he needed a tiny bit of help to become a Force Ghost. In the brand new Star Wars book, From A Certain Point of View: Return of the Jedi, we slip into the POV of the Chosen One himself as he goes from Darth Vader on his deathbed, to a shimmering Force Ghost in fancy Jedi Robes. Spoilers ahead.
On August 29, 2023, Random House will publish the latest From A Certain Point of View anthology, this one centered around different stories and vignettes from the events of Episode VI: Return of the Jedi. 2023 is the 40th anniversary of Return of the Jedi, so the book celebrates that milestone with 40 stories from fantastic authors, including Charlie Jane Anders writing about the Sarlacc, Fran Wilde's take on Mon Mothma, and even a story about Wicket the Ewok, written by Mary Kenney.
But, as Ahsoka is about to premiere on Disney+, and possibly bring us an Anakin Skywalker Force Ghost post-Return of the Jedi, one of the most tantalizing stories is called "Brotherhood" written by Mike Chen. Now, if you're following the in-canon Star Wars books closely, then you might know that Chen penned the wonderful 2022 Star Wars novel also titled Brotherhood. That book takes place before The Clone Wars series, but just after the film, Attack of the Clones.
In that book, the nature of Obi-Wan and Anakin's relationship, and their path to becoming equals was explored in fantastic detail. So, it would make sense to bring in Chen to pen a short story about Anakin and Obi-Wan's Force Ghosts having a chat. Basically, if you're looking for someone who gets the bromance of Obi-Wan and Anakin, it's Chen.
How did Anakin become a Force Ghost?
Because The Clone Wars and Revenge of the Sith established that the act of becoming a Force Ghost wasn't a well-known technique prior to Yoda learning it from Qui-Gon, fans have wondered for a while just how Anakin managed it in like two seconds. The answer is, Obi-Wan basically pulled him into Force Ghost-land, all to teach him one final lesson; a lesson in patience.
Basically, Obi-Wan takes Anakin's spirit to the moon of Endor, so Anakin can see Luke Skywalker burning the armor of Darth Vader. And in this moment, Obi-Wan tells Anakin that the real reason his spirit isn't the spirit of Darth Vader is because Anakin chose to bring balance to the Force.
Anakin's Jedi robes were a surprise!
The physicality of Anakin's spirit and his ability to see Obi-Wan, Yoda, and for Luke to see all three of them, happens at the end of the story. After conversing with Obi-Wan's spirit, seemingly without seeing Obi-Wan, the story ends to find Anakin "surprised" all because of "what he saw in front of him." What he sees is Obi-Wan's spirit, the older Obi-Wan, whom Anakin cut down in A New Hope, while he was still Vader. The implication the story floats — without saying it outright — is that Anakin looks younger because he's returned to his true self, a version of himself that rejects the Sith and chose to bring balance to the Force.
On top of all of that, the story goes the extra parsec and fully reveals that nobody expected Anakin to be wearing traditional Jedi robes. When Anakin's spirit shimmers into view, Obi-Wan quips, "That's new."
Anakin then sees that over his "restored limbs," he's wearing the "lighter, traditional Jedi robes, that kind that so many masters of the Jedi Order wore..." Anakin tells Obi-Wan the robes weren't his choice, but Obi-Wan thinks the robes chose Anakin. In the end, as Anakin joins the Force, he finally is granted the rank of Master by the Force, and he's even got the ghostly clothes to prove it.
From A Certain Point of View: Return of the Jedi is available on August 29, 2023, from booksellers everywhere.