"I Did Not Imagine This": Disney's New Show Redefines a Searing Race Epic
Gene Luen Yang had concerns about adapting his celebrated graphic novel for the screen. Here's how he changed his mind.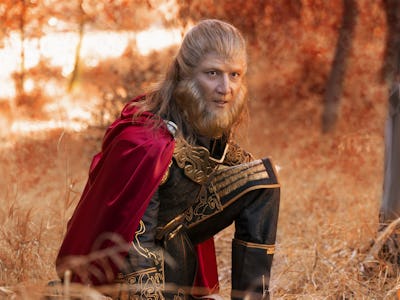 Disney
Of all the comic books to become a show on Disney+, American Born Chinese is perhaps the last one anyone would expect.
Originally published in 2006 to critical acclaim, Gene Luen Yang's American Born Chinese is a graphic novel that interrogates racial identity in America in unforgiving terms. Despite a playful art style and an absence of violence and nudity, Yang's searing portrait of Asian-American self-loathing, including the ghastly character "Chin-Kee" who intentionally evokes the Yellow Peril demons of yore, makes Yang's comic a challenging reading experience.
"I was always worried how that was going to translate into a television series or a movie."
At heart, American Born Chinese is the typical coming-of-age tale of Jin Wang, a Chinese-American teenager. Jin's story just happens to involve bickering Chinese mythological deities and his own awkward efforts to date a white girl at his high school. Though it received numerous literary awards, including an Eisner Award (the Oscars of comics) and praise from Time, Publishers Weekly, and NPR — with Kotaku calling it "The Realest Comic About Growing Up Asian American, and Hating Yourself" — the prospect of a Disney-fied version can make one pause, given Hollywood's reputed habits to flatten cultural nuance to appease the mainstream.
The live-action version is streaming on Disney+ now, with 23-year-old actor Ben Wang leading an ensemble that includes Daniel Wu, Chin Han, Stephanie Hsu, James Hong, and Oscar winners Michelle Yeoh and Ke Huy Quan. In an interview with Inverse at the Television Critics Association this year, Gene Luen Yang said he never imagined his comic as a star-studded Disney show. In fact, it was only after conversations with showrunner Kelvin Yu that Yang's anxieties were assuaged.
"I did not imagine this," Gene Luen Yang tells Inverse. He recalls his book's humble origins as Xeroxed mini-comics that Yang stapled by hand and distributed himself. "My big dream was to have it someday collected as a graphic novel," he says. "There has been interest in adapting the story. I've always been hesitant because of the stereotypes I talk about very explicitly in the book. I was always worried how that was going to translate into a television series or a movie."
Showrunner Kelvin Yu, an actor (he played Brian in Master of None) and a writer/producer for Bob's Burgers, came to Yang with ideas to reimagine his book's most challenging elements into something not necessarily palatable, but doable on TV. Replacing Chin-Kee is a new character named Freddie Wong, a fictional '90s sitcom star whose mushroom haircut, emasculating energy, and awkward catchphrase ("What can go Wong?") cemented an uncomfortable cultural stereotype in the show's universe. Oscar winner Ke Huy Quan plays the part that spiritually recalls the actor's roles like Short Round in Indiana Jones.
"Kelvin and his writing team really brought an answer," Yang says, "They quelled a lot of my fears with Freddie Wong. I can't imagine another answer to that fear besides the one they came up with."
"You start with the spirit and the voice of it," Kelvin Yu tells Inverse, adding that he was fully aware of things in the graphic novel that are "brilliant" but "couldn't be put on TV."
"I think Gene Luen Yang's work is smart, funny, and full of heart. He doesn't write anything that doesn't have a deeper point. He's not careless. So we have that in our hearts going into this, we try to maintain that voice and that tone."
Yu says he drew from his own experience as a working actor to create Freddie Wong, borne from his own efforts to land gigs in Hollywood that he felt weren't insensitive to his own selfhood.
"I was able to take that very visceral, very important experience and meld it with Freddie Wong," he says. "We were able to get a lot of the teeth of [Chin-Kee] from the book into this comment about media representation, about television. We're trying to hit all the main boxes and check them all as we can."
Ben Wang, who stars as Jin Wang, wasn't alive when cultural caricatures like Chin-Kee or Freddie Wong would have haunted his upbringing. But he tells Inverse that American Born Chinese is broadly about Asian Americans, and specifically Chinese Americans, getting to redefine representation on their own terms.
"The show doesn't hold any punches," Wang says, "It directly looks at the legacy of Asian American representation in television and film, and how that can mess with a kid like [my character] Jin, who is just trying to grow up, try his best, and be the persons he wants to be."
While American Born Chinese is quite obviously about Jin's Chinese identity clashing with his American upbringing, Kelvin Yu believes there's a universality inherent to that story.
"I think of this as another great American story," he says, "in the same way an Italian American or Irish American or Jewish American story can add to the fabric of what is an American story. That's how I feel about what we're trying to put out there."
"The food they eat at dinner, the language they speak, maybe even the expectations the parents have on Jin, are all very specifically Chinese," says Gene Luen Yang, "But the ways in which that makes Jin an outsider, even if you come from another background, you'll be able to relate. The themes explored are true for anybody who has ever felt like an outsider."
American Born Chinese is streaming now on Disney+.