Ahsoka trailer reveals our first look at Sabine, Hera, and more
The whole crew's getting back together.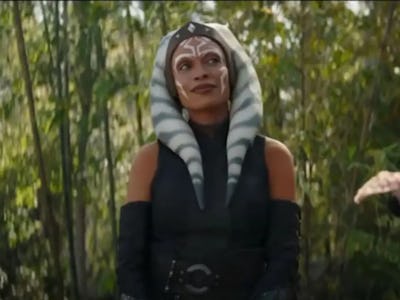 Star Wars Celebration pulled out all the stops for the "Mando+" panel held today. While the Mandalorian reveals were certainly enticing, the mysterious "+" was soon revealed to stand for one name and one name only — Ahsoka Tano. Dave Filoni's beloved character is finally about to set out on her eponymous series, but there's more to just the show that everyone's favorite Togruta — including some old friends.
Ahsoka is only three weeks into filming, but a first look at the series was shown exclusively to the audience at the panel. Thankfully, Inverse was there and can share some exclusive insights from the clip including the details of all the huge reveals.
Hera
Hera's role is the most mysterious in Ahsoka — while we know who is playing Sabine and Ahsoka (and have a lead on Ezra), Hera's casting has only produced radio silence. Was this because she wasn't going to be featured in the series at all?
Rest assured, she will be there. There was only a brief shot of Hera inside Ahsoka's T-6 shuttle from the back, but it unmistakably her. What's more, the clip also contained a clip of a small hand attempting to move a cup on a table with the Force. If Hera's in the series, this hand could only belong to her son, Jacen Syndulla.
Sabine
There were a lot of rumors surrounding the recasting of Sabine Wren, the character originally voiced by Tiya Sicar in Rebels. But we've known who will be bringing her to live action since November 2021 — Australian actress Natasha Liu Bordizzo.
She's not featured in the trailer until the end. Much like Hera, she's shot from behind, reaching out towards a mural of Hera, Ezra, and herself (in the Rebels artstyle!) in the very last seconds before the clip cut to black.
There was no audio in the clip at all, so it's unclear what Sabine will sound like, but it's clear she's going to feature heavily in the series. Bordizzo confirmed that yes, she has seen Rebels, and she knows how much Sabine means to fans.
"I think you guys are about to be really excited about the journey she's about to go on," she said to a roaring crowd
Droid Madness
Chopper was brought out for a special appearance on stage — a fully operational, screen-accurate animatronic that palled around with Rosario Dawson on stage, moving his arms and "head" side to side, just like Chopper does in the series! An appearance in Ahsoka would make Chopper one of the most prolific droids, with appearances in Clone Wars, Rebels, and even Rogue One.
But he's not the only droid being bumped up to the big leagues. Huyang, the lightsaber-building droid voiced by David Tennant, was also shown in the clip for a brief moment. It was difficult to see just where he was, but his involvement could mean a lightsaber for little Jacen — or maybe a new one for Ahsoka.
Ahsoka will premiere on Disney+ in 2023.