Ahsoka's Most Disappointing Reveal Sets Up Episode 8 for Failure
Thrawn hasn't added any new tension to Ahsoka. He's done the opposite.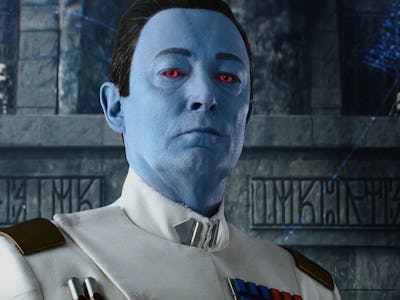 Lucasfilm
Ahsoka has spent the majority of its eight-episode season building to the intergalactic return of Grand Admiral Thrawn (Lars Mikkelsen), a character so formidable that he could, according to multiple characters, single-handedly lead an Imperial resurgence. Despite that fact, many of Thrawn's scenes throughout Ahsoka's sixth and seventh episodes have been utterly devoid of tension. The character has been so coolly confident and blasé about every obstacle that has entered his path that it's been hard to get truly invested in his storyline.
That's particularly true of Thrawn's scenes throughout Ahsoka Episode 7, which see him respond to the arrival of Ahsoka Tano (Rosario Dawson) with several decisions that fail in surprisingly spectacular fashion. Rather than expressing frustration or anger over his failures throughout the episode, he explains them away and lays out his entire plan for escaping Peridea.
In writing Thrawn this way, Ahsoka creator Dave Filoni has not only made the villain's reintroduction disappointingly anti-climactic but also set the show's finale episode up to fall flat.
Grand Admiral Thrawn's behavior throughout Ahsoka Episode 7 is, to be fair to Filoni and Mikkelsen, perfectly in line with how he acts throughout Seasons 3 and 4 of Star Wars Rebels. The problem there is that Thrawn shouldn't logically be the same as he was in that Disney XD series. Rebels, after all, ends with Thrawn being outsmarted by an 18-year-old Ezra Bridger (Eman Esfandi) and banished to an entirely different galaxy. By the time he's reintroduced in Ahsoka, Thrawn has spent around 10 years trapped on Peridea because of his mistakes in the Rebels finale.
Despite those facts, he still carries himself with the same nonchalance and arrogance that he did the last time Star Wars fans saw him. He isn't any angrier and more impatient than he was in Rebels, nor is he more ruthless, desperate, or villainous. He's just the same as he's always been, which suggests that he hasn't actually learned from any of his past mistakes. He has, in other words, been rendered as an extremely one-note character by his appearances in Ahsoka up to this point.
Even more damagingly, Thrawn's unearned confidence has made it nearly impossible for Ahsoka's finale next week to generate any real dramatic stakes. The show has so thoroughly telegraphed Thrawn's return to the main Star Wars galaxy that there's very little mystery surrounding whether or not he'll actually be able to join up with his Imperial Remnant followers. At this point, we know that's an inevitability, and Filoni's decision to continue painting Thrawn as an emotionally one-note character has further robbed the countdown to his return of the complex desperation and urgency that it could have had.
On paper, Thrawn's unwavering confidence may seem like the perfect way to make him seem all the more formidable. When he's in a situation where his chance to escape his own personal galactic exile is on the line, though, it's uncharacteristic and illogical. Ahsoka's climactic conflict is one where everyone involved, including Thrawn, should be openly desperate to come out on top. Instead, ever since the series went to Peridea, its heroes and villains have all treated the situation with a shocking lack of fear, anger, and passion.
Rather than leaving things in an uncertain place, Ahsoka Episode 7 ends with its characters in positions that make little logical sense, and which seem designed to clear the path for Thrawn's return. As a result, it's hard to imagine there being any drama, stakes, or tension in Ahsoka Episode 8. In its desperation to prop up its fearsome Imperial Grand Admiral, the series has undercut the weight of its own story.
The Ahsoka finale premieres Tuesday, October 3 on Disney+.