One Ahsoka Line Fixes the Most Confusing Star Wars Twist
Somehow, Palpatine will return. But his comeback might not be a surprise to everyone.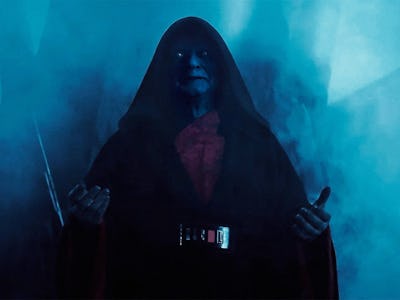 Lucasfilm
The main events of the Skywalker saga are more or less all written. We know Darth Sidious, aka Emperor Palpatine, orchestrates the fall of the Galactic Republic. We know he's eventually defeated by his own apprentice, and his Empire falls. And thanks to the Star Wars sequels, we also know Palpatine finds a way back a few decades later, to establish his regime anew in the form of the First Order. But the circumstances of his return have been frustratingly muddy, which leaves series like The Mandalorian and Ahsoka to fill in the blanks.
The latter has been diligently working to make sense of the First Order's rise, from New Republic negligence to the emergence of the Imperial Remnant. It's mostly working, but it's silly that these shows even have to explain one of the laziest villain reveals in history.
Ahsoka showrunner Dave Filoni seems to agree. In the series' seventh episode, a reunited Sabine Wren and Ezra Bridger catch up on the past decade of galactic history. Ezra's been MIA for almost nine years, which means he missed the fall of the Empire and Palpatine's defeat. "I'm still trying to process everything you told me," he says. But it seems like even Sabine has a hard time believing the Rebellion achieved its goal. When Ezra asks if the Emperor is truly dead, Sabine responds with a weary, "That's what they say."
On paper, Sabine's response reads like a cheeky nod to The Rise of Skywalker, which "somehow" brought Palpatine back as Rey's warmed-over zombie grandpa. It's funny, and in line with Sabine's sense of humor. But for Star Wars canon, this may actually reveal a common sentiment among former rebels. Does anyone really believe that Palpatine's gone for good?
In canon novels like Bloodline, we're told the galaxy enjoyed decades of uninterrupted peace before the rise of the First Order. It sounded too good to be true, and it makes even less sense now that The Mandalorian and Ahsoka have added context to the era of the New Republic. Imperial warlords are rising left and right, conquering Outer Rim planets while Republic leadership writes it all off as one big conspiracy. Ex-Imperials are working in every branch of the new state, and as we've seen in Ahsoka, some are still loyal to the Empire.
Not everyone in the galaxy knows that all this is going on, but if sentiments from senators like Hamata Xiono are any indication, many people simply don't care. It's those who actually fought in the Galactic Rebellion, like Hera Syndulla and Leia Organa, who have a better grasp on the Empire's influence. They know a power like that doesn't just vanish overnight. And with rumors of an Imperial Remnant swirling amongst the ranks, they know the fight is far from finished.
Hera may be leading the effort to warn of Thrawn's return, but she may not be alone. Moff Gideon's years-long attempt to seize Mandalore is an open secret by the time Ahsoka begins, at least within the New Republic Corps. The rest of the Remnant is still hiding in the shadows, but if military leaders like Gideon are out there, what's stopping the Emperor from coming back? After all, no one but Luke Skywalker actually witnessed Palp's demise. Maybe his return wasn't much of a shock to everyone. It would certainly explain Poe Dameron's much-memed reaction, and it feels right in line with Hera's anxieties about Thrawn and his allies. As ridiculous as Palpatine's sudden revival was to us, maybe it's not that shocking to the occupants of a galaxy once ruled by a megalomaniac with superpowers.
Ahsoka is currently streaming on Disney+.