Ahsoka Episode 4 Proves 2 Tiresome Last Jedi Criticisms Wrong
Some arguments hold less weight than others.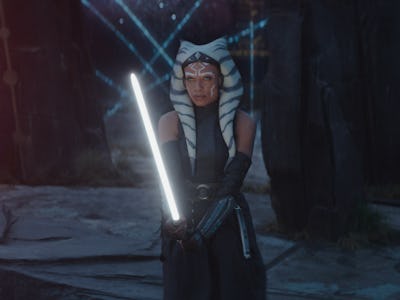 Lucasfilm
We're officially halfway through Ahsoka Season 1.
It seems safe to say that the season's remaining four episodes are set to be considerably bigger and more interesting than its opening installments, too. Indeed, not only does Ahsoka Episode 4, titled "Fallen Jedi," end with Baylan Skoll (Ray Stevenson) taking Sabine Wren (Natasha Liu Bordizzo) to the same neighboring galaxy where Ezra Bridger (Eman Esfandi) and Grand Admiral Thrawn (Lars Mikkelsen) have long been exiled, but it also sees Ahsoka (Rosario Dawson) herself end up in the World Between Worlds with a version of her former Jedi master, Anakin Skywalker (Hayden Christensen).
Before it gets to either of those two twists, though, "Fallen Jedi" delivers a pair of moments that seem to purposefully echo two major, famously divisive scenes from 2017's Star Wars: Episode VIII — The Last Jedi. In doing so, the episode not only proves some of the biggest criticisms of that film wrong but also validates the arguments of some of its fiercest defenders.
The Holdo Maneuver
In one of its most nerve-racking moments, Ahsoka Episode 4 concludes with Morgan Elsbeth (Diana Lee Inosanto) jumping her hyperspace ring to lightspeed just as Hera (Mary Elizabeth Winstead) and a crew of X-Wing pilots come into view. The latter heroes, consequently, find themselves directly in the way of Elsbeth's powerful lightspeed jump, the force of which nearly kills Hera and results in the deaths of several of her allies. It's a moment that, whether intentionally or not, is extremely reminiscent of Vice-Admiral Holdo's (Laura Dern) Hail Mary lightspeed attack in The Last Jedi.
Holdo's desperate move not only kills her but also partially destroys the First Order fleet that'd been stalking her and her fellow Rebels up to that point. It is, to put it simply, an epic moment, but one that has also proven to be massively divisive. Some of the film's biggest critics have spent years singling out the scene in question as a massive, universe-breaking event that apparently invalidates the stakes of every Star Wars space battle ever. However, by ending "Fallen Jedi" with Elsbeth's devastating lightspeed attack on Hera and co., Ahsoka creator Dave Filoni essentially confirms the legitimacy of the controversial Last Jedi moment.
After all, if George Lucas' chosen protégé doesn't see anything wrong with lightspeed attacks in the Star Wars universe, then why should anyone else? Elsbeth's climactic move against Hera isn't the only moment in Ahsoka's latest chapter that strengthens a divisive Last Jedi moment, either.
Marrok Nobody
Early in Ahsoka Episode 4, Rosario Dawson's former Jedi finds herself crossing blades again with the series' mysterious Inquisitor, Marrok. Ever since he first appeared, the latter character has been the subject of intense online speculation. In general, Star Wars fans seemed convinced that Marrok was someone who mattered — why else would he be such a masked, formidable figure?
Unfortunately, "Fallen Jedi" makes it clear that Marrok was never meant to be anything more than an obstacle in Ahsoka's path — an enemy for her to defeat without the series having to prematurely say goodbye to Shin Hati (Ivanna Sakhno) or Baylan Skoll. In dispatching with Marrok so coldly and nonchalantly, Ahsoka reiterates an unspoken truth that certain Star Wars fans remain resistant to: Not every villain is important, and we don't always need to know their backstories.
Sometimes, as is the case with both Marrok and Supreme Leader Snoke in The Last Jedi, a villain only exists to further prop up another, more important character. Snoke was never meant to be the focus of the Sequel Trilogy's story — that honor belonged to Kylo Ren (Adam Driver) and Rey (Daisy Ridley) — and Marrok's identity isn't the point of Ahsoka's story. As a result, they're allowed to be killed without ceremony.
In the years since it was released, The Last Jedi has been criticized for dozens and dozens of different reasons. Ahsoka Episode 4 doesn't indirectly address or negate all of them, either. What the episode does do, however, is prove that not all of its 2017 predecessor's biggest moments are the kind of canon-shattering sins that its fiercest critics believe them to be. If they are, then Ahsoka has reshaped Star Wars canon in several fundamental, potentially alarming ways. That's worth noting, especially considering it's the Disney+ show that, above all others, feels like it was truly made for die-hard fans.
New episodes of Ahsoka premiere Tuesday nights on Disney+.