Will Poulter Explains Adam Warlock, His "Half-Baked" Guardians of the Galaxy 3 Villain
Guardians of the Galaxy Vol. 3 star Will Poulter offers some insight into his new MCU role.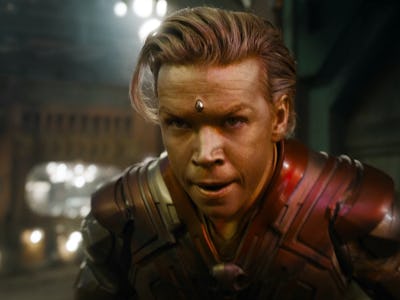 Marvel Studios
Guardians of the Galaxy Vol. 3 features the long-awaited Marvel Cinematic Universe debut of Adam Warlock (Will Poulter). Fans have been waiting for the iconic Marvel Comics character to appear in the MCU ever since his introduction was first teased at the end of 2017's Guardians of the Galaxy Vol. 2. That said, the version of Warlock who appears in Vol. 3 is, in typical MCU fashion, slightly different from his comic book counterpart.
In the comics, Adam Warlock is a cosmic being created by a group of researchers known as the Enclave who wish to use their creation for nefarious means. Immediately upon his birth, Warlock senses the intentions of his creators and escapes their grasp. In the years that have followed, the character has more or less existed as a force for good. Warlock even famously played an important role in defeating Thanos during the Mad Titan's quest for power in the original Infinity Gauntlet comic book run.
Guardians of the Galaxy Vol. 3's Adam Warlock is far less heroic than the version comic book fans have come to know and love. A creation of the vain, golden-skinned alien race known as the Sovereign, who were originally introduced in Guardians of the Galaxy Vol. 2, Will Poulter's Adam is, by the actor's own admission, a bit "half-baked."
When viewers first meet him in Vol. 3, Adam Warlock is a childish, immature, mostly reactive character. Early on in the film, it's revealed that he was pulled from his birth cocoon too early, which has resulted in his body and strength being more developed than his brain and personality. With that in mind, while it's been nearly two full years since Poulter first auditioned for his Vol. 3 role, the actor says that writer-director James Gunn always wanted his version of Adam Warlock to intentionally feel less developed than the film's other characters.
"I remember James talking a lot initially about Adam in terms of his hatching early and coming out sort of half-baked, and that was really interesting to me," Poulter revealed in a recent interview with Inverse. Additionally, although the actor ended up scoring his Vol. 3 role after several months' worth of auditioning, Poulter says that it did take some time for his and Gunn's ideas for the character to overlap.
"James had a very clear vision of what he wanted, and I was grateful that my interpretation happened to eventually line up with his over the course of my auditions," Poulter explained. "I definitely didn't get it right initially, but with James' notes and brilliant direction, I think I eventually got there."
Like many of Guardians of the Galaxy Vol. 3's characters, Adam Warlock grows quite a lot throughout the film. The undeveloped nature of the character, however, forced Poulter to have to communicate much of Adam's emotional and mental growth non-verbally. With the exception of Vin Diesel's Groot, Adam has the smallest amount of dialogue of any of Vol. 3's core characters, but Poulter believes that only further reflects his "childlike" journey in the film.
"Quite a bit of it is nonverbal, and I hadn't really thought about it like that, but I suppose that is quite true of [everyone's] childlike experience," Poulter says. "You are in an observational phase for a long time and computing more than you are outputting yourself."
"James and I didn't necessarily discuss that," the actor adds. "But I think the conversations we had prior to filming really informed how I approached those moments. Whether it was about observing behavior that I didn't recognize or responding to rules that I might have unknowingly broken."
According to Poulter, it was Gunn's belief that Adam Warlock's uneven mental development would be integral to not only his arc in the film but would also be the source of his comedic edge.
"James said, 'Therein lies the comedy of the character,' because it's sincere. He's not playing for the laughs per se. He genuinely is trying to make sense of the world around him [in Vol. 3]," Poulter observes. "His misinterpretations are born of a kind of genuine naivety as opposed to a desire to wink at the camera."
In that sense, while he might not necessarily be what MCU fans were expecting, the obliviousness of Poulter's Adam makes him a logical addition to a franchise that already features, among others, Dave Bautista's ignorant Drax and Pom Klementieff's emotionally invasive Mantis.
Guardians of the Galaxy Vol. 3 hits theaters on Friday, May 5.