Guardians of the Galaxy 3's Stars Didn't Know If James Gunn Would Return: "It Was Such a Relief"
Karen Gillan and Pom Klementieff discuss the final chapter of their MCU trilogy.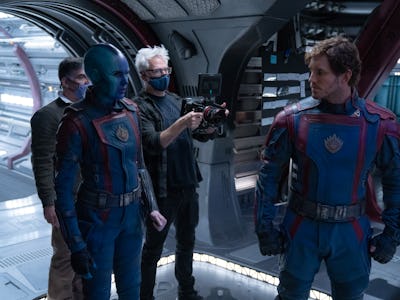 Jessica Miglio/Marvel Studios
Karen Gillan and Pom Klementieff knew Guardians of the Galaxy Vol. 3 was going to be an emotional ride, but that's not the only reason they decided to read the film's script for the first time together. There was also the fact that, for a long time, they didn't think its writer, James Gunn, was going to get to direct the final chapter of his cosmic Marvel Cinematic Universe trilogy.
Back in 2018, Gunn was famously fired by Marvel over a series of insensitive tweets the writer-director wrote several years prior. A little less than a year later, Marvel rehired Gunn, but it was in that year of uncertainty that Klementieff and Gillan sat down to read the script. "We were too emotional to read it on our own, so we were like, 'Let's do it together,' and then we just started crying immediately," Gillan tells Inverse.
Years later, Gillan and Klementieff reunited with Gunn on the set of Guardians of the Galaxy Vol. 3.
"It was such a relief," Klementieff says.
"We didn't think it was gonna happen, so when we got back and everyone was together again, we were overjoyed," adds Gillan. "Everything just felt right."
Guardians of the Galaxy Vol. 3, which hits theaters this Friday, follows the MCU's most eccentric team of oddballs on one final adventure. In the case of Gillan's Nebula and Klementieff's Mantis, Vol. 3 finds them both becoming more comfortable with their own identities.
For Gillan, Guardians 3 presented the chance to play a version of Nebula who is a bit lighter on her feet. She was delighted to discover that her scenes with Pratt had a slightly screwball edge to them.
"When I was watching the film the other night, I felt like Quill and Nebula had an almost His Girl Friday kind of banter going on," the former Doctor Who star observes. "I didn't realize just how much of that was there until I saw the film."
And speaking of classic movies, Gillian reveals she got into character every day in true Guardians of the Galaxy fashion by listening to the theme song of an iconic 1980s film.
"James didn't suggest this or anything, but every morning when I was getting my makeup on for Nebula, I would put on the Top Gun theme," Gillan says.
Klementieff, who shared a makeup trailer with Gillan, can attest to her co-star's love for Kenny Loggins' "Danger Zone."
"Every day, I would look at her and be like, 'Again? Every morning, really? That's insane," Klementieff says, prompting Gillan to reveal, "But then she filmed me doing it one day and sent it to Tom Cruise!"
"Yeah, I did," Klementieff, who stars opposite Cruise in this summer's Mission: Impossible — Dead Reckoning Part 1, confirms with a laugh. "He loved it, though! He thought it was cool!"
After her exposition-heavy introduction in Guardians of the Galaxy Vol 2., Klementieff got to cut loose in 2022's Holiday Special, which paired her off with Dave Bautista's Drax and established Mantis as one of the franchise's funniest characters. The duo's friendship is alive and well in Guardians 3, but the movie also gives Mantis a chance to emerge as the heart and soul of the team.
Although that may come as a surprise to some, it was always Gunn's plan.
"I remember James telling me that Mantis was gonna be like the glue that keeps the Guardians together," Klementieff explains. "She's an empath, and that's such a beautiful quality to get to play and show, especially right now, when it seems like empathy is a quality a lot of people seem to lack."
Questions about their MCU futures will inevitably arise in the coming weeks, but Gillan and Klementieff claim they don't know what Marvel has planned. Klementieff, for her part, has a hard time thinking about a future for Mantis that isn't determined by Gunn, who's already left the MCU to assume his role as co-head of the rival DC Universe.
"It's hard for me to imagine a version of Mantis not written by James Gunn," the actress admits.
Does that mean she and Gillan plan to follow Gunn to DC? Neither actress seems willing to say that out loud right now. "If he asked me to play a two-headed alien in the background that's out of focus, I would do it because I love working with him. I would play any character that he asked me to, basically. That's the truth," Gillan says.
When asked about a potential role in the DC Universe, Klementieff similarly remarks, "If James asked me tomorrow to shoot something on his iPhone in a parking lot, I'd be like, 'Okay, let's do it.'"
Guardians of the Galaxy Vol. 3 hits theaters on Friday, May 5.