10 years ago, the weirdest vampire movie ever defied expectations
Far better than it has any right to be, this relic of 2012 is worth revisiting today.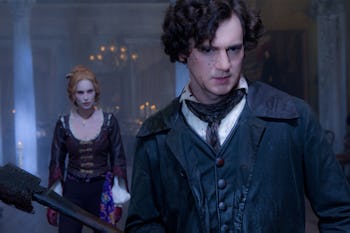 In 2012, Hollywood's lust for vampire films was running at full throttle. That year The Twilight Saga: Breaking Dawn Part 2, Dark Shadows, Hotel Transylvania, Dracula 3D, Vamps, and Underworld: Awakening all flooded multiplexes. Abraham Lincoln: Vampire Hunter, which hurtled out of the dark like one of the film's many axes, seemed like a tongue-in-cheek novelty that was too late to the party.
But the film's wicked twist on American history was a surprise hit, or at least surprisingly competent. Spawned from the pages of author Seth Grahame-Smith's historical horror hybrid novel, and carrying the directorial flair of filmmaker Timur Bekmambetov, the whole affair was just stupid enough to work.
Abraham Lincoln: Vampire Hunter was released by 20th Century Fox backed by a marketing campaign that told audiences exactly what they were in for. "History prefers legends to men," the trailers preached. "It prefers nobility to brutality, soaring speeches to quiet deeds. History remembers the battle, but forgets the blood. Whatever history remembers of me, if it remembers me at all, it shall only remember a fraction of the truth."
While the simple narrative might seem silly, execution is everything and Bekmambetov, whose supernatural fantasy flicks Day Watch and Night Watch brought invigorating new life to horror in the early 2000s, delivered a dynamic feature filled with dizzying set pieces and an assembly of thespians who are completely invested in the silly source material.
The project began life, as so many strange things do, via Tim Burton, who teamed up with Bekmambetov to option the novel. When Fox won the bidding war, Burton pivoted to executive producer and let Bekmambetov take the director's chair. Critics and fans were generally kind to what followed, applauding the film's inventive CGI, rousing musical score by Henry Jackman (X-Men: First Class, Kong: Skull Island), and solid, heartfelt performances.
They had to be heartfelt to make the premise work. In an alternate history, a young Abraham Lincoln was also a fearsome vampire slayer during his nocturnal hours, and while serving as President he gets his hands dirty in the Civil War by taking down vampiric slave owners. It's a lively romp that works because it never slows down to make you think about how stupid it is. Benjamin Walker stars as Honest Abe, while Rufus Sewell, Dominic Cooper, Anthony Mackie, Jimmi Simpson, and Mary Elizabeth Winstead all embrace their parts with period-piece relish.
The film begins with a young Lincoln losing his mother to the lethal bite of a vampire named Jack Barts. Vowing revenge, his attempt to dispatch Barts fails and he's rescued by famed vampire hunter Henry Sturges (Dominic Cooper), who acts as his mentor in the fine art of fighting bloodsuckers.
As an adult, Lincoln moves to Springfield, Illinois and works as a store clerk while studying law and dispatching vampires. Years later, as President, he discovers that vampires are part of the Confederate army, and he makes a final stand on the eve of the Civil War against Adam (Rufus Sewell), the charismatic leader of the creatures.
Walker is excellent in his portrayal of the President. He wields his axe like a bearded samurai in a stove-pipe hat, never taking himself too seriously yet respecting the script. He's aided by Bekmambetov's fluid camera movements, with the director bringing elegant montages and compositions to a film that didn't need as much style as he gives it.
Standout sequences include a massive horse stampede and an eight minute train sequence that climaxes in a locomotive exploding over a flaming trestle. The gorgeous cinematography came courtesy of five-time Academy Award-nominee Caleb Deschanel, who composed the lush imagery in films like The Right Stuff and The Passion of the Christ. Paired with Bekmambetov's eye for color and craftsmanship, the two stylists gave Vampire Hunter a distinct visual tone that still feels fresh today after a decade of MCU spectacles and redundant paranormal franchises like Sinister and Insidious.
Today, the whole affair feels like a bizarre fever dream, a Party Down gag come to life. The second attempt to adapt Grahame-Smith's history-horror mashups to film, 2016's Pride and Prejudice and Zombies, was a dire flop. The author has since transitioned to screenwriting, having been attached to Gremlins, Beetlejuice, and Green Lantern projects in various states of development, and this whole affair could easily be dismissed as a relic of the internet's obnoxious epic bacon period.
But the past 10 years have been unusually kind to Abraham Lincoln: Vampire Hunter, and its lean 105 minutes fly by with the glint of sharpened steel and a gnashing of pointed fangs. Now that the oversaturated vampire craze has cooled off, this is the ideal time to revisit a surprisingly stylish horror gem.