Why Is Dark Horse Planning to Revive Its 'Aliens' Comic Again?
Dark Horse plans to release its original six-issue arc in its intended form. Bully!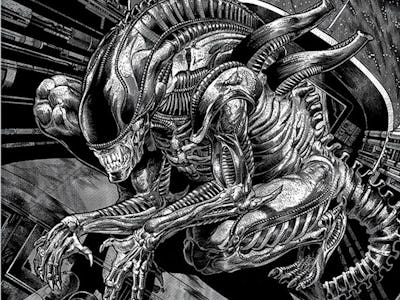 This week Dark Horse announced plans to re-release its first Aliens comic. Due for release April 2016, the limited edition hardback will collect the original six-issue arc first published in 1988 and restore every element obliterated by later reprints. Color-inked panels will revert to glorious black and white, and after being remixed out of the series Hicks and Newt will return. So what might this mean?
Originally positioned as a comic book sequel to the 1986 Aliens movie, this official and canonical story — much like the later Buffy seasons — picked up with Hicks and Newt ten years later. It revolved around their next experience with the creatures. And at some point Newt shags an android called Bueller. It's brilliant. Then Alien 3 happened. In 1996, Dark Horse remastered their entire Aliens comic series to keep in line with the cinematic continuity — Hicks and Newt were switched out for thinly-veiled alternate identities Wilks and Billie — who look and behave exactly the same.
What's the point in re-remastering the comic? Meddling with it the first time around soured things for fans, who were a little pissed that the middling Alien 3 trumped the comic for canonical importance. However, the idea of reintroducing Hicks would have served as a good foundation for Blomkamp's now-nixed movie. If he didn't die in the third film then there'd be no reason to keep the 'Wilks' schtick going. Now that movie is on permanent hold it leaves only one, rather straightforward, option.
It could simply be what it appears to be: a limited edition anniversary release. If the rigidity of canon is no longer a concern, then quality is of higher value than a strict adherence to correct timelines and identity squabbles. While there's no other events announced to coincide with Aliens 30th anniversary, it won't go unnoticed, and for fans seeking out the first proper sequel they're not gonna be happy with bloody Wilks and Billie. (Apart from the fact that Billie still shags the same synthetic person as Newt. I mean, how much bad luck can one person get dealt?)
The original version is far superior for including Hicks and Newt. It's also better off for referencing Ripley: nobody's fooled by the casual references to her as a "female survivor" and "a civilian woman" in the remastered version. Especially with this flashback to the moment Hicks is splashed with the aliens' acid blood.
If Dark Horse and 20th Century Fox realize this as proper canon then it means — by extension — something pretty huge for the travelers in Ridley Scott's Alien: Covenant. Once they set foot on the Aliens' home planet, they'll also be fighting dragons.