Knives Out is 2019's smartest movie
It's all about a dead guy, but no other film this year has felt so alive.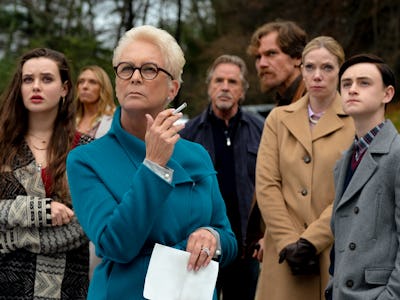 Lionsgate
No movie in 2019 feels more alive than Knives Out, Rian Johnson's first film since Star Wars: The Last Jedi.
It upends the whodunit genre with a stream of twists that kept me guessing until the final act while also delivering a surprisingly effective critique of white privilege. If you're paying attention, it's the smartest movie of 2019, but even if you're not, it's still prickly fun.
On the 85th birthday of eccentric mystery author Harlan Thrombey (Christopher Plummer), his extended family gather at his home for a night of revelry. The next morning, Harlan is found dead, and a private detective is hired to investigate.
Meanwhile, the entire family unravels into hysteria. Who has claim to his wealth? What are the circumstances of his death?
Thrombey's part-time nurse, Marta Cabrera (Ana de Armas), emerges as the emotional lead and narrative focus. Her relationship with her employer makes her vital to the investigation, even as she becomes increasingly entangled in the mystery. She's nervous, good-hearted, assertive, and vomits whenever she lies.
Marta may be the closest to a three-dimensional character on Johnson's chessboard, but the rest of the cast has plenty of quirks, flaws, and motives. You'll walk away from seeing Knives Out struggling to pinpoint your favorite character.
Chris Evans sheds the nice guy persona of Captain America by playing the biggest asshole in Knives Out. If the cast weren't so stacked, he might even steal the show. Daniel Craig's an absurd Southern gentleman as Detective Benoit Blanc; Jaime Lee Curtis is a cigarette-smoking, domineering older sister; and Toni Collette is essentially playing Gwyneth Paltrow — a healthy lifestyle guru whose free spirit comes at a vapid price. Katherine Langford, Michael Shannon, Lakeith Stanfield, and Frank Oz (!) round out the cast.
Large portions of the story are told through narrative flashbacks during police interviews, and what actually happened often contradicts what the interviewee is telling Craig's detective. In classic style, we get to rewatch the same events from different perspectives. To hear one person tell it, a heated argument might look like a tender reunion. In one case, a welcoming smile is later revealed to be a self-righteous form of encouragement to fuel a racist tirade. Johnson layers Knives Out with thorny, unlikeable, provocative people — right down to the alt-right teen who gets accused of masturbating in a bathroom.
A whodunit in an era when people can google spoilers on their phones may seem out of time, but Knives Out is patently aware of the nowness of its own story.
An argument about President Donald Trump erupts in the middle of this well-heeled party, and it may be awkward for some to watch.
Knives Out is the type of movie Americans should be talking about this weekend over their Thanksgiving leftovers. It's steeped in the vernacular of 2019 — at one point the alt-right teen calls his grad student cousin a social justice warrior — but instead of dating itself, these references will keep the movie as a sort of time capsule.
If Rian Johnson has a fault as a writer-director, it's that most of his work — including Star Wars: The Last Jedi — has a wafting air of pretentiousness. As a storyteller, he's always trying to buck trends and defy your expectations.
In Knives Out, Johnson serves up a fun, charming, hilarious, compelling mystery that's impossible to dislike — though Trump supporters may grumble.
Most murder mysteries use red herrings and misdirection like a butcher knife. The result can be lowbrow, schlocky pulp entertainment. But Johnson wields these narrative tools like a scalpel. Though hardly subtle, the scene changes and the structure keep things humming smoothly. This cast will keep you entertained as two hours and 10 minutes zip by.
If you pay close enough attention, you might just crack the case before Craig's Detective Benoit Blanc — who deserves an entire franchise of mystery movies! But that won't harm your ability to enjoy Knives Out in the slightest.
When's the last time you could say that about a murder mystery?
Knives Out cuts into theaters on November 27, just in time for Thanksgiving.