This Speaker Has Everything You Could Ever Want and You Can Get It at Walmart
Who needs a personal assistant when you've got a smart speaker?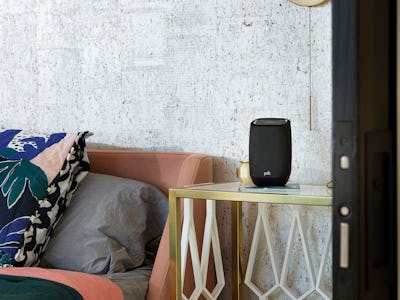 Polk Audio
We've entered the age of convenience. Smart gadgets have popped up everywhere to solve problems you weren't even really sure you had. This extends but is not limited to robot vacuums, automatic pet feeders, food delivery from anywhere within a 5-mile radius, smart TVs with already incorporated streaming service providers and in this case, a smart speaker that does it all for you.
Designed to be an all-in-one tweeter, woofer and amplifier, the Polk Assist is available at Walmart for a great deal. This bluetooth speaker will provide room-filling audio that never sounds distorted or blown out—even at its highest volume. This fact alone makes the Polk Assist that perfect addition to any indoor or outdoor party, chore day or screening of your favorite movie or TV show. At 3 pounds, the Polk Assist is surprisingly portable for easy travel and bringing the music to wherever you want to be.
With Chromecast built in, you can pair with your TV, iPad or computer's apps to absorb stunning audio in any situation. The Polk Assist also comes complete with built in Google Assistant that will easily pair with your existing—or new—Google Home set up and allow you to take new found control of all your home's devices in a whole new way. What this means is you can use your smartphone as a convenient remote control to operate all your home's devices, but if that's too much, the sound of your voice works just as well. Even more, Chromecast enables you to pair with other Chromecast enabled speakers and sound bars to provide multi-room streaming for sound that truly fills your entire space.
All you have to say to a turned-on Polk Assist is "play Pandora" and this amazing little speaker will play your preferred station from right where you left off without you needing to lift as much of a finger. Perfect for use in the kitchen while you cook, for use in the bathroom for unparalleled sound quality while you shower or any other feasible situation where you might want to listen to your favorite music or podcasts in stunning audio, this deal isn't one to dismiss.
Act fast! This powerful smart speaker is selling out fast with only 4 left in stock at the unbeatable price of $199.