Alfie Allen's Emmy Nomination Is Fully Deserved for This Heroic 'GoT' Scene
Allen's character had come full circle by the time he died in the Godswood.
by Allie Gemmill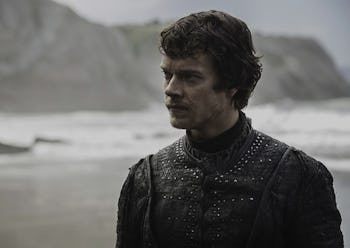 HBO
Game of Thrones collected 32 nominations for the 2019 Emmys, with the acting categories featuring at least two actors nominated in each category.
Among the actors nominated was actor Alfie Allen, who played Theon Greyjoy on the series. He earned a nomination for Outstanding Supporting Actor in a Drama Series, but the nomination may give viewers pause, as Allen didn't feature as prominently in Game of Thrones' eighth and final season. He died in the third episode of the season, after all.
But if you look closely at one specific Season 8 moment, it becomes very clear why Allen secured the Emmy nomination, and why he was was right to submit himself for a nomination after HBO didn't.
"I wasn't expecting [the nomination], it's incredible. There are a lot of actors I admire in that category, just to be there is amazing, just came home now with my dog and letting it sink in," he told EW. "It's just an honor, man, it's just amazing."
Theon Greyjoy was never really brave or loyal or even confident. Often the butt of the joke, Allen played Theon as a man caught between strength and fear; he often chose fear. Allen's ability to portray weakness of character, as Theon, is truly unparalleled.
So, when we see Theon do an about-face at the end of Season 7, and finally rise into the role of a leader by Season 8, it was enough to make you sit up and take notice.
While it felt like Theon Greyjoy had come full circle at the start of Season 8 — he had ended his turncoat behavior, proved he was a loyal friend, brother, and ally to those who mattered — his story also felt like it was ending.
After seven seasons where it felt like there was simply no end to Theon's nonsense, we finally saw him step into a leadership role and manage to make good use of it by the time the Battle of Winterfell rolled around in Season 8, Episode 3.
Theon wasn't long for the world as far as Season 8 was concerned: Theon heroically died at the hands of the Night King while protecting Bran during the Battle of Winterfell. What makes Theon's scenes during the Battle of Winterfell so powerful — and Emmy-worthy, now — is the fact they exhibit better than any speech just how far Theon had come. Rather than running away, Theon stood his ground, trying to pick off White Walkers as they come into the godswood at Winterfell. Weapons run low very quickly and Theon realizes he has to fight hand-to-hand with creatures who are faster and more formidable. But he steps up in a time of crisis and shows that he no longer operates from a place of fear.
It's this particular scene which makes Theon's development on Game of Thrones particularly poignant. It also reminds us just how much Allen has developed as an actor and how well he can pull off Theon's transformation. Allen is fully engaged during his final moments, as Theon, before being killed by the Night King. There is full physical engagement, as Allen's body language, so tense yet so alert, makes you feel the life-threatening stakes of the situation.
Allen's journey as Theon hasn't been an easy one, especially since Theon has frequently been shown to be such an unlikable character. Game of Thrones may not have gotten everything right about its final season, but what it did get right was showing Theon to be a changed man.
Allen's ability to show all of Theon's new facets, moving through the space with resolve and jumping into action, was enticing to watch. Even if Allen doesn't win his category, the nomination is emblematic of his journey through the Game of Thrones story, and honors his decade-long development of a character who went from zero to actual hero.
The 2019 Emmys air Sunday, September 22 at 8/7c on Fox.