This Ridiculous Light-Up Beer Pong Table Is Ridiculous and Amazing and Did We Say Ridiculous
Make an impact at your next gathering with this extremely awesome--and excessive--party accessory.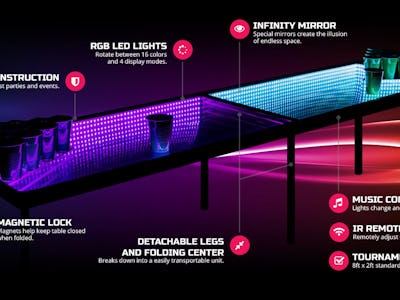 Infinity Beer Pong
Whether it's been a while since you've thrown a real house party or that's just how you like to get down, a light-up beer pong table could be a game changer for you. Allow me to set the scene. For one weekend a year—more if that's your thing—you could feel like you're living Project X. Lights everywhere, booze flowing freely and every single person in attendance having a blast. Imagine if every time you thought to yourself, "what will we do?" when you're hosting and having an easy answer every time.
Infinity Beer Pong started as a DIY project when the founder was helping to throw a birthday party for a friend. Tasked with finding a solution for how to keep a party going long after dark in a poorly lit space, the idea of a light-up beer pong table was born. From there, a Kickstarter and then a company were born and now you too can own your very own light-up beer pong table without having to spend a weekend learning how to do electrical wiring.
I don't know about you, but that's an attractive offer to me. I love to DIY when I can, but I know my own limits and I'm willing to pay for a job—or product—to be done right if it saves me even one meltdown. So let's get into the specs of the Infinity Glow LED Beer Pong Table. Every table comes with impact resistant mirrored surfaces for promised durability and the effect of endless space for the guaranteed guy at the party constantly reminding everyone that "it's trippy, bro!!!" The metal frame construction, detachable legs and folding center seeks only to protect your investment further while the magnetic lock makes it easy to fold, transport and store without fear of damage to the mirror surface.
But that's just the hardware. Multi-colored LED lights can rotate between 8 colors and 4 display modes while each side of the table can be set to a different color for easy refereeing. Even more, the table has a built in music sensor that reacts to the rhythm of surrounding music and flashes in time. The included remote control puts gives you full control of the party's vibe.
What's more is that every table can be engraved with your desired phrase, hashtag, event name and more. So if you've ever wondered what your party is missing, there is no time like the present to #LightUpThe Party so that your parties can go down as legendary.