Everything we know about Ghost Rider on Hulu cancellation
Robbie Reyes was meant to make his television debut. Here's what we know about the canceled superhero project.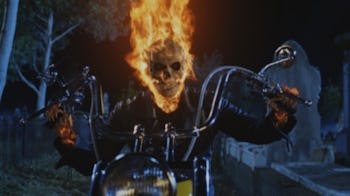 Sony Pictures.
Robbie Reyes was meant to ride on Hulu. The streaming service's 2019 Upfronts were held on May 1, 2019 and while there were plenty of exciting new show announcements, the one we were especially interested in are the two live-action series birthed from the streaming giant's partnership with Marvel: Marvel's Ghost Rider and Marvel's Helstrom.
Hulu CEO Randy Freer gave insight on what to expect from the two new series and what they would be about, explaining that "together, [Hulu and Marvel] are journeying into a different corner of the Marvel universe: thrillers.
Supposed to be kicking off these shows was one of Marvel's signature characters, Ghost Rider. Ghost Rider roams border towns, exacting justice on those who do harm. Following Ghost Rider will be Helstrom, based on two of Marvel's most complex characters, the children of Satan."
Unfortunately, Ghost Rider was canceled later that fall while the series was still in development. But here's everything we know about what could have been.
Remind me: who is Ghost Rider on Hulu?
As is the case with numerous comic book characters, the mantle of "Ghost Rider" has been taken up by a few men over the course of the character's comics history. Most of us are familiar with Jonathon "Johnny Blaze" Barton, the original Ghost Rider whose story was brought to the big screen in the 2007 Nicolas Cage-led Ghost Rider.
There is also Robbie Reyes, who will star in Hulu's upcoming series. In the comics, Robbie is a mechanic living in East Los Angeles, trying to make a living while bearing witness to crime in his neighborhood. Looking to earn enough money to move himself and his younger brother, Gabe, out of their dangerous environment, Robbie enters a street race with a $50,000 prize. Unbeknownst to him, the car is possessed by a demonic spirit. Robbie believes he's being chased by the police during the race and instead, discovers he's being run down by a gang who kills him. The spirit transfers itself from the car to Robbie's body as he lays dying, turning him into the Ghost Rider, a bounty hunter bound to roam the streets and bring in criminals.
Ghost Rider's powers are plentiful, including superhuman strength, speed, and durability; pyrokinesis; using his car to create portals, teleport, or communicate with the dead; and demonic transformation, which includes his head turning into a flaming skull.
When was Ghost Rider going to premiere?
Ghost Rider did not have a premiere date by the project's cancellation.
Did Ghost Rider have a trailer?
Ghost Rider did not have a trailer by the project's cancellation.
Who was in the cast of Ghost Rider?
According to IndieWire, Gabriel Luna would have returned as Robbie Reyes, a.k.a. Ghost Rider, the role he originated on Marvel's Agents of S.H.I.E.L.D. back in 2016. Luna posted about bringing the Ghost Rider story to Hulu on his Instagram on Wednesday, May 1, writing, "It's an honor to ride again with @Marvel and our new partner @Hulu! To all y'all that have made calls for this show over the past 2 years, Thank you! Your voices were heard. Die and Ride."
No other casting announcements had been made at the time of the project's cancellation
What was going to be the plot of Ghost Rider?
Per the press release from Hulu's 2019 upfronts, the story of Robbie Reyes/Ghost Rider was going to continue in a darker, more thriller-like vein: "Marvel's Ghost Rider, also known as Robbie Reyes, is a quintessential antihero, consumed by hellfire and supernaturally bound to a demon. Reyes lives on the Texas/Mexico border and when he unleashes the Rider, Robbie brings vengeance for the innocents he encounters, but struggles to control the power he wields."
Why was Ghost Rider canceled?
In September 2019, Hulu announced that it would no longer be moving forward with Ghost Rider. Deadline reported, "I hear Hulu and the Ghost Rider team had reached a creative impasse which could not be resolved, leading to the streamer's decision not to move forward with the series."
The news shocked a number of people, perhaps most notably Ghost Rider himself. Gabriel Luna said he was surprised by the announcement, but chalked it up to the nature of the business. He revealed that Ghost Rider had been in the middle of pre-production, including building sets and writing scripts, when the cancellation came.
Were any other Marvel/Hulu series canceled besides Ghost Rider?
Though Ghost Rider did not ride forward, a form of the Marvel/Hulu live-action partnership did come to fruition in Hellstrom. The 10-episode series, which featured Daimon and Ana Helstrom as the children of a serial killer who hunt demons, premiered on October 16, 2020. The show was canceled after one season on December 14, 2020.
This article was originally published on