The 'John Wick 2' Plot Thickens With a New Distribution Deal
We're getting closer to more double-taps and gold coins.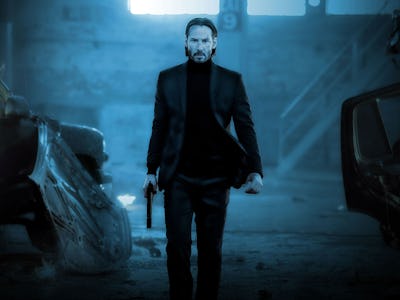 johnwickthemovie.com
John Wick 2 is inching closer toward reality. First, directors Chad Stahelski and David Leitch confirmed the sequel's development to Movies.com. Next, we learned that John Wick would become a "multiple-title action franchise." Now, ScreenDaily reports that Swiss distributor Ascot Elite has acquired the rights to the massively-anticipated John Wick followup. IT'S SUPER HAPPENING.
If there were any doubt that John Wick 2 would fall through, it should now be erased. You don't acquire distribution rights to movies you can't distribute. Since it's on its way, it's time to start speculating.
Stahelski and Leitch want to flesh out the bigger world around Keanu Reeves, so they should look at their own marvelous creation for inspiration: the Continental Hotel. The Continental is the assassins' safe haven/hangout where John Wick gets into a little scuffle with a rogue killer.
Even if some familiar baddies were killed off by film's end, the Continental opens the door to plenty of new allies and adversaries. It's a goddamn assassins' club where a gold coin gets you entry into the basement speakeasy. Stahelski and Leitch can keep it light on the backstory, as they did with Wick I, because simply existing at the Continental implies the character's awesome with a chilling past. Please, just give us more motivation and sweet revenge. The Continental is the place that'll have it — even with a no-dogs policy, presumably.