These DC and Marvel Costumes Could Be Super Popular for Halloween 2018
Google Trends gives us some insight into popular 2018 Halloween looks.
by Josie Rhodes Cook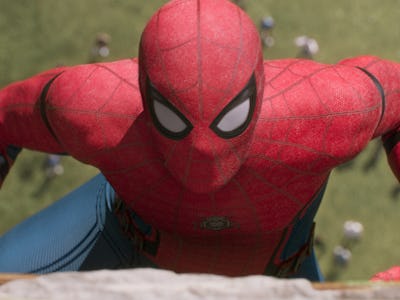 Sony Pictures
It's usually a safe bet that superheroes and villains will be spotted among the costumed masses every Halloween. Even if you don't pick your costume until the last minute, a quick Batman or Spider-Man outfit isn't exactly hard to pick up at a Halloween pop-up store or Party City before you hit the town. On top of that, hardcore comic book fans have probably been working on their superhero costumes for months, or might even re-use their New York Comic Con cosplay
Either way, there's no shortage of superheroes roaming the streets on October 31, and this year doesn't seem to be any different. So if you're worried that your Spider-Man costume won't stand out in a sea of Peter Parkers you're probably right, but there's an easy way to find out.
Google recently launched a Halloween-themed site called Frightgeist designed "conjure up Halloween's most popular costumes," based on Google trends. In what should be a surprise to absolutely no one, many Marvel and DC characters are high on the list.
The most popular superhero this Halloween, according to Google at least, will be Spider-Man, but he' didn't grab the number one slot. According to Google, that honor goes to Fortnite, suggesting we could be seeing a bunch ofFortnite themed costumes this year.
After that, expect plenty of Spideys, likely thanks to the popularity of Tom Holland's take on the character in recent Marvel movies like Homecoming, Infinity War, and the upcoming Far From Home.
Harley Quinn ranks sixth on the list, making her the highest DC character on Google's Frightgeist. A more general "superhero" option immediately follows Quinn, for the costume-less among us who are truly desperate for any and all superhero-related ideas, I suppose.
Wonder Woman comes in at number 12, which seems low. The Incredibles also ranked pretty high at 14, and they're definitely superheroes even if they don't come from Marvel or DC. Batman takes a slightly shocking 20th spot in the ranks, followed by Black Panther at 23, and the next Marvel or DC character doesn't show up until Joker makes the list at number 39.