Here's Our First Look of Liu Yifei as Mulan in Disney's Live-Action Remake
Let's get down to business... to look at a promotional photo.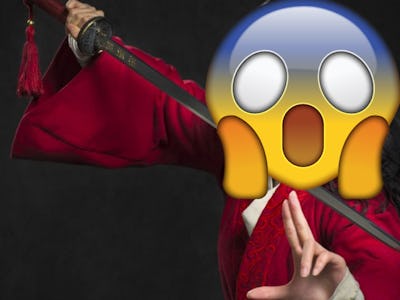 Liu Yifei certainly looks like a girl worth fighting for — but fortunately, the heroine of Disney's upcoming live-action Mulan remake can hold her own to defeat the Huns.
The latest Disney classic to get the live-action treatment has started production, and today we're getting a first look at the movie's star. A new image shows Chinese actress Yifei as Mulan, clothed in a red robe and wielding what looks like a traditional jian sword. (That's the kind the Hua Mulan of Chinese legend would have used in the Northern Wei dynasty.)
For anyone who hasn't seen the 1998 animated film, Mulan pulls some gender-swap trickery to join the all-male ranks of the Chinese army in lieu of her aging father. Yifei looks surprisingly female in this promotional shot, considering that the animated Mulan cut her hair off before military training.
Then again, by the end of the movie, Mulan's true identity is revealed, and she defeats the big bad without masquerading as a man, so this still could represent those final battle scenes.
Yifei, who has also gone by Crystal Liu in the entertainment industry, is best known for costarring in 2008's The Forbidden Kingdom with Jackie Chan and for winning Best Actress at the Macau International Movie Festival for her role in 2012's The Assassins. Starring in Mulan, which will premiere on March 27, 2020 — the 22nd anniversary of its predecessor — is Yifei's most buzzworthy American role yet.
Casting directors saw nearly 1,000 candidates for the lead role across five continents before choosing Yifei, which bodes well for her performance. It's no question that she fits the character aesthetically since Disney focused on finding ethnically Chinese actresses after it received backlash for Aladdin's live-action remake casting.
Joining Yifei is Rogue One's Donnie Yen, who will play Commander Tung, an original character that Deadline reports will serve as a mentor to Mulan. The Zookeeper's Wife and Whale Rider filmmaker Niki Caro is directing Mulan, and the cast also includes Jet Li (The Expendables), Jason Scott Lee (Dragon: The Bruce Lee Story, Lilo & Stitch), and Li Gong (Memoirs of a Geisha, Miami Vice).
1998's animated Mulan leaned heavily into its rollicking soundtrack and comedic supporting cast — like Eddie Murphy as talking dragon Mushu — but the live-action remake is already cutting out original character Li Shang (Mulan's love interest, thought by some to be blatantly bisexual. Most (or all) of the original music will also get cut too.
Disney's recent live-action remakes have been overwhelmingly box office successes. 2017's Beauty and the Beast, starring Emma Watson, brought in over $500 million and had the highest-grossing March opening weekend for any movie to date. There have also been some relative flops, like 2016's Alice Through the Looking Glass, which earned only $77 million.
The Mulan remake's promotional debut comes just days after a sneak peek of Ralph Breaks the Internet: Wreck-It Ralph 2, well, broke the internet with its new, stylized take on all ten Disney princesses in loungewear. Princess fanaticism aside, it's safe to bet that Yifei and her "credible martial arts skills" will inspire a new generation of girls and their inner warriors. Even if there's no promotional McDonald's Szechuan sauce to advertise it.
Mulan hits theaters on March 27, 2020.