'Rogue One' Star Donnie Yen Joins Live-Action 'Mulan' Cast
He will play Commander Tung, a mentor for the title character.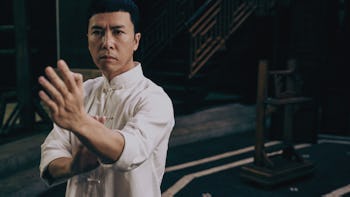 Well Go USA
Disney's upcoming live-action adaptation of Mulan has been moving at a slow pace as the result of a struggle to find the right person for the lead role, which ended up being Chinese actress Liu Yifei. The movie's second star, on the other hand, is a familiar face.
Deadline reported Chinese action movie star Donnie Yen will be in the live-action Mulan movie. He will play Commander Tung, a mentor for the title character. Yen's role of Commander Tung was not in the original movie.
This role is the second movie from Disney he's worked on. His first was 2016's Rogue One: A Star Wars Story. The 54-year-old action star has appeared in dozens of movies in China but has only appeared in a few roles in U.S. cinema. He appeared in Blade II, xXx: Return of Xander Cage, and Shanghai Knights. Yen also starred in Rogue One as Chirrut Îmwe, a blind, quarterstaff-wielding monk who believed in the Force and was part of the Guardians of the Whills.
Originally released in 1998, Mulan tells the story a young Chinese woman, Fa Mulan, who impersonates a man to fight against the Hun invasion during the Han dynasty. Although the voice cast for the animated movie had few Chinese-American actors, the production team for the live-action film is doing its due diligence to find Chinese actors for the roles. For the title character, Liu Yifei beat out nearly 1,000 actresses for the role.
Directed by Niki Carro, Mulan is set to debut on March 27, 2020. The original release date for the film was November 2, 2018, but Disney made the date change in March when the company announced its upcoming movie schedule.
In China cinemas, Yen is known for the Ip Man series, which tell the story of Yip Man, a Wing Chun grandmaster and teacher of Bruce Lee. Ip Man 3 had a special cameo by former heavyweight champion of the world Mike Tyson.