'Death Wish' Reviews Call It One of the Worst-Timed Releases Ever
It's a "faithfully fascist, gun-nut remake."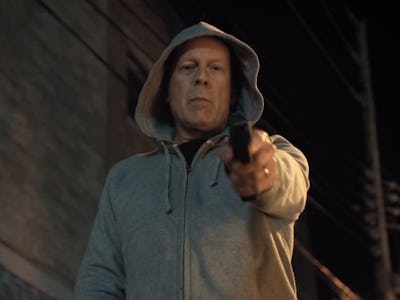 Metro-Goldwyn-Mayer
Eli Roth's Death Wish remake, which just opened in theaters, could prove to be one of the worst-timed film releases ever. Aside from looking like a violent mess with a gun-toting vigilante, the story feels outright offensive in the current political climate.
Death Wish was released in theaters on Friday, and with it came a stream of politically-minded reviews. It's darkly ironic that Death Wish was originally moved from a November release following the most deadly shooting in U.S. history in October, because its latest release comes fresh off the heels of the recent Parkland shooting.
Death Wish stars Bruce Willis in a remake of the 1974 film starring Charles Bronson, in which a surgeon goes on a rampage after his wife is murdered. Fundamentally, it's about a man who takes justice into his own hands when the police can't — or won't — do anything. It's a straight-up revenge tale that glorifies guns without any of the compelling world-building we get in a film like John Wick.
If you've ever thought Bruce Willis might make a good Frank Castle, aka The Punisher, then perhaps this is the movie for you.
Writing for Variety, Owen Gleiberman called it "blunt-witted, pop-reactionary, crudely watchable and reprehensible." Whereas John Wick offers elegant, beautiful choreography with its gunplay, Death Wish has scenes with unwitty one-liners that end with Bruce Willis pumping a half-dozen bullets at a time into drug dealers.
It comes off as "a movie that has its heart in the wrong place" that's ultimately just "an advertisement for gun fetishism." Gleiberman does note a key difference from the original Death Wish in that his rampage becomes "a social-media-fueled news event," adding a necessary dynamic to the story.
Justin Chang for Los Angeles Times called it an "imbecilic" remake, adding that it was basically "a feature-length National Rifle Assn. infomercial starring Bruce Willis and a large supporting cast of firearms." Death Wish becomes especially problematic when released in the midst of a national conversation about gun control following the Parkland shooting.
Chang accuses the film for "pandering shamelessly to the viewer's bloodlust while trying to pass as self-aware satire." Hint: It doesn't successfully pass as self-aware satire.
A.A. Dowd for AV Club echoes the sentiment, calling it a "faithfully fascist, gun-nut remake." This brand of hyper-violent fascism might've worked in the Seventies as a schlocky tale that pandered to the public's paranoia, but here in 2018 things look considerably different.
Entertainment Weekly's Chris Nashawaty called Death Wish "the wrong movie at the wrong time" and joins the hordes of reviewers bashing the film for its timing, arguing that it's one thing to tell a vigilante story like this set in Gotham or even Marvel's version of New York City, one that's stalked by The Punisher.
But because Death Wish's version of Chicago feels more or less identical to our own, the film descends into a certain brand of problematic insanity. Nashawaty called something that ultimately "amounts to a Purge movie minus the irony."
It would be one thing if Death Wish delivered a compelling piece of thoughtful satire that glorified gun violence, but largely because of the current political climate, a portion of the audience will probably react negatively to the irreverent tone of the film.
But does it matter when more people are just going to go see Black Panther again this weekend anyway than see Death Wish?
Death Wish is currently out in theaters.
*Check out the trailer for Death Wish*: