'Avengers: Infinity War' Is Getting a Daredevil Cameo ... in Lego Form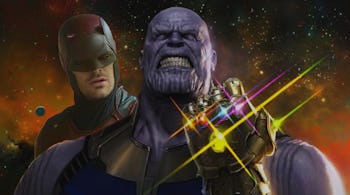 Marvel
In the lengthy lead-up to Avengers: Infinity War, Marvel fans have been piecing clues together with the skill of a Lego master builder, especially when it comes to figuring out if any of Netflix's Defenders will make cameos. Well, it's looking like Daredevil and the gang will be MIA in the actual movie, but at least Lego has your back. Leaked images of the toy companies upcoming Infinity War sets include a sneaky Daredevil cameo, although the Devil of Hell's Kitchen doesn't quite get his own minifigure.
One of the bigger sets appears to be Doctor Strange's Sanctum Sanctorum at 177A Bleecker in New York City. An Instagram user who saw the leaked images noted that there was something familiar on the Lego brick sidewalk. There's a newspaper box for the New York Bulletin, the paper where Karen Page works in Daredevil and The Punisher. The headline, in all-caps, reads "CRIME FLOODS THE STREETS," and there's a little illustration of what looks like Daredevil in Lego form.
It's a cute little nod, and it opens up the possibility that we might see actual Defenders Easter eggs in Infinity War, even if actual appearances by the actors behind Daredevil, Jessica Jones, Luke Cage, and Iron Fist have been pretty soundly ruled out. Might Peter Parker briefly consider trying to sell some photos to the New York Bulletin rather than the Daily Bugel before Thanos's invasion occurs? It would be fun, but at the very least, at least Lego can play with all the building blocks of the Marvel Cinematic Universe.
Avengers: Infinity War hits theaters in the United States on May 4, 2018. Netflix's Daredevil Season 3 is expected to premiere in 2018, though the streaming service hasn't shared an exact date yet.