'Westworld' Season 2 Will Premiere Sooner Than You Think
HBO has a date for 'Westworld' Season 2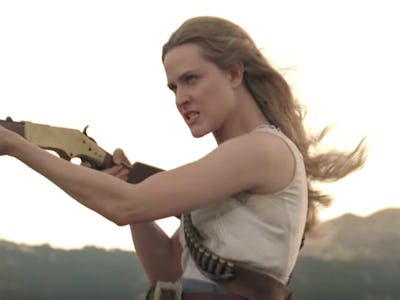 HBO
After Westworld's first season ended, rumors abounded that there might be a two-year wait before HBO's robot western returned. But on Thursday, the network announced that Season 2 will actually premiere in spring of 2018.
The news comes from HBO's PR site, which simply says "The Emmy-nominated series is currently in production for its second season, debuting in spring 2018."
The end of Season 1 saw violet delights meet violent ends in the adult wild west theme park, as the robotic "hosts" Dolores and Maeve gained awareness about the nature of their realities.
In Maeve's case, she took several other hosts with her in the ultimate destructive robot squad. Together, Maeve and gunslinger hosts Hector and Armistice brought murder and mayhem to Delos's lab facility.
Dolores, meanwhile, killed her maker, Dr. Ford, ushering in a dangerous new world in which hosts can kill park guests.
The Comic-Con trailer for Season 2 features Dolores wielding a gun and riding on a horse. Curiously, it also features Bernard and the older version of The Man in Black — two characters whose return to the show was uncertain, depending on Season 2's timeline.
Bernard's brief scene in the trailer also signifies an expansion of the world beyond the Western part of the park. The Season 1 finale offered a glimpse at another Delos park, Samurai World. In the trailer, Bernard is shown looking at a tiger — an animal that seems much more at home in feudal Japan than the Old West.
Since Westworld and Game of Thrones will likely not air at the same time, as both are HBO's big genre shows, this means that the final season of Game of Thrones will likely not be on during that same spring.
Westworld Season 2 does not yet have a definitive premiere date beyond spring of 2018.