How to Get 'Rick and Morty' Stickers on Facebook Messenger
Is there any better way to get ready for the rest of Season 3?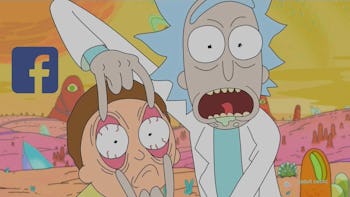 'Rick and Morty'
To gear up for Rick and Morty's fast-approaching Season 3, Facebook has released 16 stickers for its Messenger that feature various characters from the show, and your messages are about to get riggity riggity wrecked.
The stickers range from obvious ones like Rick and Morty passing through a signature green portal to a trio of Morty reactions that include upset, horrified, and his weird squiggly mouth reaction. There are also cameos from fan-favorite characters like Birdperson, a Mr. Meeseeks, and even Mr. Poopybutthole.
To get the new stickers installed on your Facebook Messenger, follow these simple steps:
Open up an existing conversation in the Messenger app and tap on the smiley icon in the text field
Search "Rick and Morty" in the "search stickers" bar
Select your sticker(s) and send!
Alternatively, fans can access the sticker pack directly through the Facebook page for the pack, where you can click the button that says "FREE" to instantly add them to your Messenger for use in communicating with your friends.
Once installed, you can use them by selecting the smiley icon in the text field.
Episode 2 of Rick and Morty Season 3 airs Sunday, July 30 on Adult Swim at 11:30 p.m. Eastern.