What We Know About Season 1 of Marvel's'The Defenders' 
From The Hand to new characters, here's your essential guide.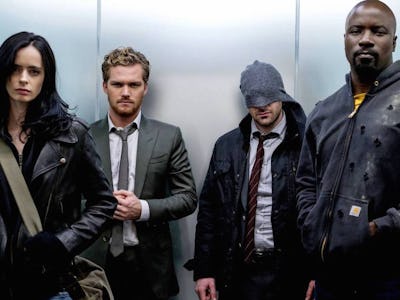 Netflix/Empire
After punching and kicking their way through their own individual shows, Jessica Jones, Luke Cage, Matt Murdock, and Danny Rand are uniting onscreen at last in Marvel's The Defenders this summer.
If it's been a while since you've seen Daredevil or you skipped Iron First because of its less-than-stellar reviews, don't worry. Here's everything you need to know for the highly anticipated Marvel series.
The central storyline involves Jessica Jones, Luke Cage, Matt Murdock, and Danny Rand banding together to fight their common enemy The Hand. More on that in a bit.
As a character refresher, Jessica Jones is proficient at fighting and being pissed off. Danny Rand is really good at martial arts and pissing other people off. He can also make his fist hard enough to punch through walls and doors. Matt Murdock is a blind vigilante lawyer, and Luke Cage is bulletproof.
Aside from the four main power players, side characters from individual shows will also make appearances. The most important is Rosario Dawson's nurse Claire Temple, who played a supporting role and functioned as the connective thread in all the individual shows. The lawyer Jeri Hogarth (Carrie-Anne Moss), who appeared in Jessica Jones, Daredevil, and Iron Fist will also play a key role.
Additionally, Jessica Jone's best friend Trish Walker will appear, as will her neighbor Malcolm. Danny Rand's ass-kicking love interest Colleen Wing will appear, as will Luke Cage's ally Misty Knight. Meanwhile, Matt Murdock will import the most supporting characters from his own show, as Froggy Nelson, Karen Page and Elektra Natchios will all appear.
So will Stick, which brings us back to The Hand.
The Hand is a power-hungry ninja criminal organization that appeared in both Daredevil and Marvel's Iron Fist. Daredevil's Stick is a blind martial arts master who wages war against the hand. He'll bump up against Sigourney Weaver's mysterious new character, who is the show's villain. Although it isn't clear what role she'll play, it's likely that she's involved in The Hand.
Marvel's Iron Fist introduced a brewing civil war within the ranks of The Hand. One faction considers itself the "good" side.
Defending New York City from The Hand and its war won't be an easy task. Not only do Jessica Jones, Danny Rand, Matt Murdock, and Luke Cage have wildly different personalities, but Luke Cage is in Seagate. Judging from The Defenders trailer, a prison break might be in order.
Marvel's The Defenders hits Netflix on August 18, 2017.