'American Gods' Reveals Mad Sweeney's Epic Past
In its best hour yet, 'American Gods' explores the connection between Laura and Mad Sweeney.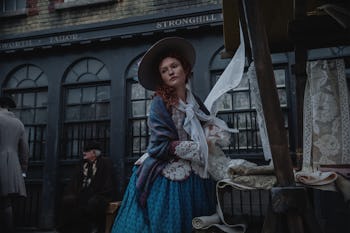 Starz
In its first season, Starz's adaptation of American Gods has mostly stuck to Neil Gaiman's novel (when it's not adding or added to it, as was the case with Vulcan and Laura's past). But, the seventh episode "A Prayer For Mad Sweeney" is the series's most successful hour because it stays true to the novel's spirit while evolving it into something entirely new and unique. In the story of Essie McGowan, American Gods doesn't add to the story whole cloth, but instead takes a kernel of an implicit connection between Laura, Essie, and Mad Sweeney from the books and expands it into something wonderous.
"The American colonies were as much a dumping ground as an escape."
"Prayer For Mad Sweeney" takes one of the novel's "coming to America" vignettes and stretches it into an entire episode. The story of Essie McGowan, which is largely true to the novel, could have easily been condensed into a ten minutes introductory sequence. By expanding it into an hour long epic fable and tying it to Laura and Mad Sweeney's show-only relationship, American Gods makes it more meaningful. Although it isn't overtly stated in the novel that the leprechaun in the tale is Mad Sweeney, it's implied. And although Laura has his coin in the book, no real connection is drawn between the two. But the threads are there to run with, and Bryan Fuller and Michael Green have. In doing so, they elevate the source material and make the story stronger.
This is the first episode where every part feels connected and the show truly feels like a surreal fairy tale. Right from the start, the tone is established when more time is spent with Mr. Ibis and Anubis in their funeral parlor, as they bicker over the lack of deaths from "lover's quarrels." In humanizing Mr. Ibis rather than simply leaving him as an impartial narrator, "Prayer for Mad Sweeney" gives the story-teller a sense of realism. This reverses the dynamic of previous episodes, where Mr. Ibis has added whimsey and the rest of the story has been more "real."
""One does not ask favors of leprechauns without a kindness of gold""
The story of Essie McGowan — who goes from maid to prisoner to thief to wife and mother — is of a headstrong young woman who carves out a place in a world in which the odds are stacked against her. All the while, she clings to her beliefs in her childhood folklore.
Emily's Browning's Irish accent is too broad; her hair unnaturally red. It's a caricature, but the borderline cartoonish aspects casts Essie's tale into the realm of legend. It's a clever move, because Mad Sweeney has been introduced to the audience bar fighting, passed out on toilets, and cursing in taxis. It would take a lot for him to seem whimsical and magical. But the episode's gorgeously fairy-tale cast, mixed with Essie's steadfast belief in him, does the trick.
"You are an unpleasant creature!"
As the episode returns to the present day, Salim, Laura, and Sweeney are still on their oddball road trip. When Laura and Sweeney let Salim go, he can't escape Sweeney, the "unpleasant creature" fast enough. After stealing an ice cream truck, this manic partnership is on the way to the House on the Rock. When Mad Sweeney is peeing, he talks to a raven. Since "A Murder of Gods" definitively established that Wednesday is Odin, ravens are his messengers. In saying "fuck you" to the raven, Sweeney is talking to Wednesday.
The show leaves it ambiguous whether Laura is Essie reincarnated or a distant relative. It also leaves it unclear whether Sweeney draws a connection between Laura and Essie, or whether he's too wrapped up in his own problems. But this ambiguity creates a tension between the two timelines that captures the book's essence in spite of its departure.
"I was a king once"
Just like the connection between Essie and Laura, "Prayer for Mad Sweeney" makes Sweeney's past deliberately vague, even as it fills in blanks. As he explains, he was originally a king, then Irish lore turned his kind into "saints and trolls and fairies," then "General Mills did the rest," in the modern conception of leprechauns.
The King part is from the old Irish tale Buile Shuibhne. His powers are a bit vague, because he's lived for hundreds of years and can survive car crashes but he's not immortal. He can see visions in flames yet can be thrown in jail, and he's not a god but when Essie is old, he takes the role of Anubis and ferries her to her death. But after the on-the-nose obviousness of Vulcan, "vague" is a welcome sweet spot for American Gods. His powers are strongest when he's near Essie and Laura, because they have an implicit connection.
"Prayer for Mad Sweeney" strikes the perfect balance between fable and oddball road trip show, between spinning story and leaving threads for the viewer to connect themselves. If every episode of American Gods is like this in Season 2, it will continue being a fantasy powerhouse to be reckoned with.
American Gods Season 1 is currently airing Sunday nights on Starz.