Wednesday and Shadow Rob a Bank on 'American Gods' 
In "Head Full of Snow," Shadow and Wednesday rob a bank, Mad Sweeney returns, and the Jinn appears.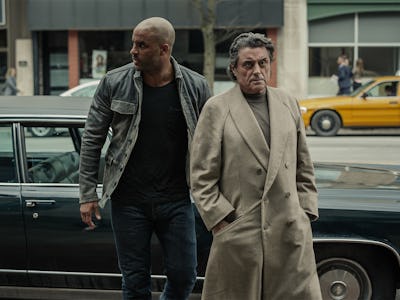 Starz
Shadow Moon might think he's losing his mind, thanks to the weird occurrences that have plagued him ever since his release from prison on American Gods. But with each passing episode of Bryan Fuller and Michael Green's Starz show, he's grown more comfortable with the blurring lines between the mundane and the magical. If the second established that the gods can be assholes, the third shows how they act in truly mysterious ways.
"You are to come with me."
The cold open to "Head Full of Snow" introduces Anubis, the Egyptian god of the underworld. The show presents him earlier than Neil Gaiman's novel does, but he plays a key role in the story. Although he's Egyptian, Anubis is the Greek version of his name — which is appropriate for the cultural mashup at work here. Unlike the previous cold opens featuring Odin and Anansi, Anubis appears to a woman who is startled to find him, because she's Muslim.
He explains it's because she heard his stories as a young girl, which poses a fascinating question about how belief systems function in American Gods. Although this scene was invented for the show, the sequence in which he weighs the woman's heart against a feather to determine its righteousness or heaviness plays a key role later in the book.
"What are you looking at up there?"
When Shadow meets the third and youngest Zorya sister — Zorya Polunochnaya, "the midnight star" — she tells him, "You'd rather die than live in a world with bears in the sky." The sentiment is a continuation of the second episode's diner scene, in which Shadow struggles with the more fantastical elements of this world, agonizing to Wednesday over losing his mind. "Head Full of Snow" marks the point at which Shadow begins to accept this weird world he's been drawn into, and it's thanks in no small part to Zorya Polunochnaya.
It's no accident that she's the most gentle and mild mannered deity he's met so far. She doesn't demand a fight or an unnerving checkers game, but a kiss from a virgin. In return, she offers protection in the form of the moon rendered into a coin. Although this scene is faithful to the novel, it isn't faithful to Slavic mythology. Traditionally, there are only two Zorya sisters, but Gaiman invented a third to echo the three Fates in Greek mythology.
"You look like you've seen better days, friend."
Mad Sweeney's sequence is invented for the show, as his screen time in the novel is minor. It's true to the novel's spirit, however, waking up in bar bathrooms and embarking on grumpy, startlingly violent hitchhiking trips is surely what he was doing offscreen. The luck of the Irish is not exactly with him, because his new "friend" dies almost immediately in a freak car accident. This is because Sweeney accidentally surrendered his most important coin to Shadow at their first meeting. That's the "sun" that Zorya Polunochnaya refers to as she gives Shadow the moon coin.
"If I could grant a wish, do you think I would be driving a cab?"
Like most of the sex scenes in American Gods, the sequence with the Jinn is faithful to the novel. Salim, a down on his luck, gay Muslim man is trying, in vain, to make a life for himself in America. He's discouraged by the demands of his family back home and the impenetrability of the garish city of New York — until he meets a Jinn, that is. Recall that the Jinn made a brief cameo in "The Secret of Spoons." Wednesday met him in the diner while Shadow had a run in with Media.
Like all of the gods and demigods, the Jinn is down on his luck, too. He's a taxi driver whose customers don't respect him — and as he tells Salim, he's in no position to grant wishes. (The Americanized version of Jinn is Genie.) But after their sex, he disappears, leaving Salim with his ID and his outfit, enabling him to start an anonymous new life in America that doesn't involve peddling his brother-in-law's junk. In that regard, the Jinn is the opposite of Bilquis: Her sex consumes her partners; the Jinn invigorates Salim. It also connects to Anubis and Zorya Polunochnaya, because all parties are presenting benevolent faces to people who aren't actively demanding anything from them.
"How many colors does Jesus come in?"
Shadow is clearly not a regular guy, despite his best efforts to present himself as such. Every god he's met so far has gifted him something or tried to recruit him for their "side." The third episode takes this concept further when Shadow does something overtly magical by willing the weather into a snow storm.
Although that's intriguing for the story ahead, the meat of his bank robbing jaunt with Wednesday comes from their conversation about different incarnations of Jesus. ("You got your white Jesuit style Jesus, you got your black African Jesus, you've got your brown Mexican Jesus, you've got your swarthy Greek Jesus … there's a lot of need for Jesus, so there's a lot of Jesus.") Previous episodes have hinted at it, but here it's made explicit: No god has one single form. Because America constantly questions its own identity, each god has multiple incarnations and purposes.
This idea connects to the cold open and to the Jinn sequence. As Wednesday says, America is the only country in a constant state of identity crisis. "Head Full of Snow" reflects this in its gods and believers.
American Gods is currently airing on Sunday nights on Starz.