Netflix's 'Sense8' Has Been Canceled, So There's No Season 3
The cliffhanger with BPO will remain.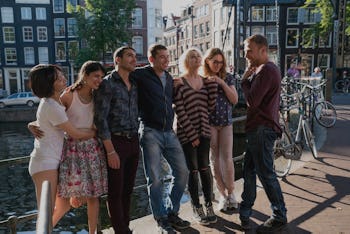 Netflix
It's official: Netflix has canceled the Wachowskis' Sense8. Fans were beginning to suspect something was up when stars Brian J. Smith and Doona Bae posted vaguely sad sentiments on their social media accounts, and Netflix confirmed the news on Thursday.
Netflix's press release didn't go into much detail, only stating that "after 23 episodes, 16 cities, and 13 countries, the story of the Sense8 cluster is coming to an end."
Though no official reason was given, the show reportedly cost $9 million per episode yet generated less buzz than shows like Marvel's Iron Fist or Master of None. Netflix recently axed a similarly expensive auteur show (Baz Luhrmann's The Get Down). The price tag and audience size (though the streaming giant doesn't publicly share viewing data) are likely factors.
Before the cancelation news, Sense8 producer Grant Hill told Indiewire, "We would like to do a Season 3…Netflix has been very supportive, but it's always complicated. We're a reasonably expensive show."
The show, which centers around eight people from all over the globe who discover the ability to communicate and connect mentally, has been celebrated for its diversity and LGBTQ+ positive themes. One main character is trans, played by a trans actress (Jamie Clayton), one main character is gay (Lito), both are depicted as having healthy and supportive relationships, and the show's orgy scenes display a sexual openness that is rare on television. The characters also come from different cultural and religious backgrounds, but they connect in spite of their differences.
Season 2 ended on a cliffhanger with several loose ends, as the central cluster declared war against the sinister organization BPO. Unless the Wachowskis find an alternate platform, that cliffhanger will be the series finale. The cancelation news means that Sense8 is, for now at least, a two-season only show.