Why Liv Tyler Went From Elf Maiden to Cult Leader
Liv Tyler talks filming after having a baby, 'The Leftovers,' and more.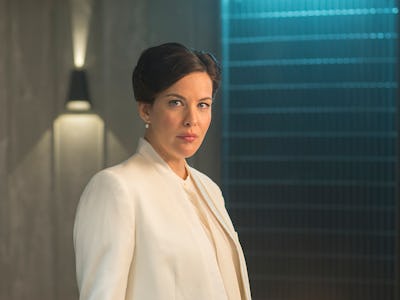 HBO
Liv Tyler has cultivated a reputation for gentle, loyal earnestness in her on-screen rolls, from her breakout in Armageddon to her recurring part as an elf maiden in Lord of the Rings. That's why her turn as the sinister cult leader Meg in HBO's The Leftovers is startling. As it turns out, it was equally startling for the show's creators Tom Perrotta and Damon Lindelof.
"I reached out to them that I wanted to play her, and they were kind of shocked," Tyler told Inverse over the phone. "They didn't really have — I imagine — me at all in mind for the part."
Tyler spoke with Inverse about playing against type, acting just six weeks after having a baby, and more.
Spoilers are below for the seventh episode of The Leftovers Season 3.
One of the interesting aspects of your performance is how your serene voice made Arwen ethereal in The Lord of the Rings films, but you used it to make Meg menacing in The Leftovers.
I didn't do any practicing of my voice — you have a process of work you do to create the character. But on this show, in particular, so much of it was less technical and more emotional and raw. Meg had such an impulsive manner and way about her, and I really enjoyed playing that.
Why do you think Damon Lindelof and Tom Perrotta were surprised when you initially reached out about the part of Meg — because it's so different from your previous roles?
I'm not sure, I was really looking for something that was just a little bit different and off. I read the script, and I absolutely just loved it. It was just all so interesting and weird and different. Every character is a character you've never played before — but [Meg], in particular, had a lot of characteristics and traits that were very new to me, and very unlike myself. Meg was the one character that never fully realized in explaining what was going on with her. Even in her [Season 2] episode, there were so many things that weren't answered. I never knew if they didn't know who she was or if that was a choice they made on purpose. They opened so many doors and never closed them with Meg.
Since The Leftovers is the first show you've done, what was it like for you to return to for a single episode after being away for a long time?
I was kind of freaked out because I had just had a baby. I was not really probably supposed to be on set yet, and when they told me I was playing the vice president and had to wear a white suit [in the seventh episode of Season 3], I started laughing. I thought it was a joke, because I was obviously not my normal weight — and the thought of having to put a white suit on on a good day is kind of terrifying. Shooting that was so bizarre and trippy and fun.
What's next for you?
I just finished filming a BBC show called Gunpowder, where I was thinking about my voice all the time, because it takes place in 1604, and I have an English accent. It's the opposite of Meg.
The third and final season of The Leftovers is currently airing Sunday nights on HBO.