Where Is #Girlboss Sophia Amoruso Now?
Her show was badly timed, but there's fight in her yet.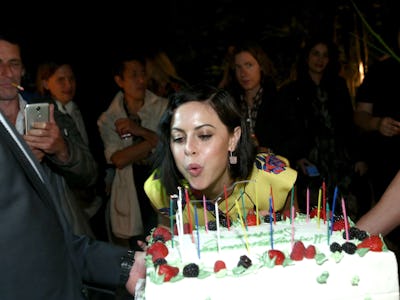 Getty Images / Tommaso Boddi
So your business flopped, you got sued for allegedly mistreating employees, you had to step down as the chairwoman of the company you built from the ground up, and then the Netflix series based on your life got nearly universally bad reviews. What now, Sophia Amoruso?
Amoruso, the founder of the recently sold-off vintage clothing monolith Nasty Gal and founder of Girlboss Media, is brushing up against some pretty nasty timing with the release of Kay Cannon's (30 Rock, Pitch Perfect) semi-autobiographical series. The show follows a fictionalized Amoruso prancing through San Francisco and stumbling into massive e-commerce success in 2006.
When the show was announced early last year, it seemed like Girlboss the series was meant to serve as a boon, not only to Amoruso's brand, which had spawned two successful memoirs and a slew of book tours, but to her bread-and-butter, Nasty Gal. Fast forward to the show's release date, and things are slightly different — Nasty Gal weathered a brutal lawsuit detailing allegations that they had fired pregnant women and terminally ill employees, and sales have tanked. The company filed for bankruptcy late last year as Amoruso stepped down as executive chairwoman, and it's since been sold for a tenth of its peak net worth.
So yeah… it's not been the ideal time for 32-year-old Amoruso to call attention to herself, much less with a series that critics felt was more than a little self-forgiving and narcissistic in its treatment of the protagonist. While no formal plans for a second season have been announced, a lot of what Amoruso's next narrative moves will be may hinge on what she decides to do now.
From what Amoruso is allowing the public to see, she's returning to familiar ground — building a business and a brand from the ground up. Post-Nasty Gal, Amoruso threw herself into new media company Girlboss, a website with five employees that expands on her success by sharing her experience as a self-made female entrepreneur in the original memoir into a full-blown media empire a la Bustle or Bitch Media. Developing an online business is nothing new for her, but this time the world is watching. So far, so good — Amoruso held "The Girlboss Rally" in Los Angeles this March that brought a number of successful female businesswomen out to support both her cause and career reboot.
"A question I keep asking myself is where is the permission to fail or err or make mistakes?" Elizabeth Nolan, creative director of Equinox, said at the rally. "I think of all the male entrepreneurs [and] how many times they didn't get it right before they got it right, and I think Sophia deserves that chance to start over too."
With regards to the Girlboss show, this puts Amoruso in the challenging position of her real-life choices, representing more than just herself, but, as Cannon described it in an interview with Vanity Fair, of her whole gender.
"One of the things that was really important to me was to show a woman in all ways," the writer explained of the Sophia character. "I'm trying to, through Sophia, give women permission to be all things: happy, vulnerable, an asshole, a jerk, decisive, the boss, not the boss."
Fair enough — but should we give anyone permission to fire pregnant women and people with cancer? There's a distinct line between the two Sophias, fact and fiction, that those involved with the show have avoided. Regardless, Amoruso appears to have every intention of bouncing back in a major way with Girlboss Media and has, if not the support of the general public quite yet, the support of her own girl boss community.
"A theme of our show is to be the boss of your own life," Cannon explained. "It's O.K. to fail. It's O.K. to dust yourself off and move on."
Let's hope so, for Season 2's sake.