'Mission Control' Shows NASA at Its Most Ambitious
In the 1960s, NASA was seemingly unstoppable.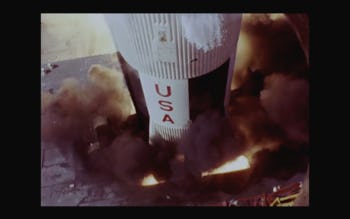 Just when you thought you knew everything there was to know about a uniquely rich sliver of American history, a documentary like Mission Control comes along to tell you otherwise.
Covering the formation of NASA, as well as the conception and execution of some of its most famous missions throughout the 1960s, Mission Control tells the story of the American space program a too-often neglected point of view: that of the NASA engineers and scientists who never left Earth so that they might facilitate others in doing so.
These widely unsung heroes — the mission controllers — have finally gotten their due in documentary format. The film had its world premiere at SXSW and will see a theatrical release on April 14, a planned coincidence that resonates with an anniversary of the notorious Apollo 13 space flight.
Directed by David Fairhead and produced by Keith Haviland, Mission Control presents itself as a love letter to teamwork by going in-depth on one of the most compelling teams of people ever assembled: the early NASA flight staff.
"Many of them came from ordinary backgrounds, smokestack towns and mining communities, the middle ranks of the Navy and the Army," Haviland tells Inverse. "They came together and did extraordinary things, achieving the remarkable outcome of landing a man on the moon in less than a decade."
"They weren't like the astronauts," Fairhead adds. "They weren't test pilots. They hadn't gone to MIT. They'd gone to conventional universities. They weren't high flyers, but they were good at math and physics." Generally blue-collar though they may be, this class was good at their jobs not necessarily because of what was in their heads, but what was in their hearts: "They're calm in a crisis. They've got an inner steel to deal with problems of life-threatening enormity in a way that's generally very impressive."
American history is quick to point to celebrated astronauts like Neil Armstrong and John Glenn, but these success stories are only borne on the back of a lot of hardship and setback. The film talks at length about the oft-forgotten Apollo 1 mission, which saw the death of three astronauts during a launch rehearsal; the cabin caught fire and the increased air pressure prevented anyone involved from opening the door. There's nothing easy about getting into outer space.
People like Gene Kranz, flight director during the notorious Apollo 13 mission, would step up to shape an identity for the mission controllers. Kranz famously delivered his "tough and competent" speech in the wake of the Apollo 1 fire, urging all NASA personnel to wholly identify with these two words to honor of the memory of the three astronauts who had just died.
This legacy is of course still honored at NASA today. "Out of nothing, they built this great institution," says present-day NASA flight director Courtenay McMillan in the film, gesturing to the contemporary mission control room behind her. "They put us on the path to human spaceflight."
To hear the film's creators talk about it, space exploration literally opens us up to new facets of human experience. "There's something called the overview effect," says Haviland, "a term invented in the 1980s, and it was about seeing the earth from space — a common astronaut experience." Suddenly able to witness the entire planet churning in the blackness of oppressive space, an astronaut sees no national boundaries and experience Earth as an oasis. They transcend.
"[Famed Apollo 13 commander] Jim Lovell recently began speaking about how we're all 'born into heaven,' because the earth is a precious gem in quite a hostile universe," Haviland continues. "Being able to see what we are from a distance has always been fascinating and is one of the side effects of the space age."
Largely told with original archival footage from the time, the story is sweetened exponentially with interviews from many of the aged mission controllers who were actually there in the 1960s pushing the buttons that made it possible for mankind to exit the atmosphere. "These are probably the last interviews they'll do," says Fairhead.
This movie will appeal to any man or woman who works in the context of a team. The early mission controllers thrived due to excellent leadership, but they also had potent interpersonal ingredients that came together for the better. Over a decade of aiming for a distant bullseye, they formed a connection with each other so productive that it got mankind off of Earth.
"They came from these ordinary backgrounds only to do something quite extraordinary," says Fairhead. "[The film] is a kind of tribute to the power of a team."
As mentioned, Mission Control sees a theatrical release on April 14, but you can already pre-order it on iTunes and Vimeo. If you derive any kind of joy at the notion of outer space, this movie will reward you.