The 15 Most Badass Pictures of the Late, Great, John Glenn
The American icon died on Thursday at 95.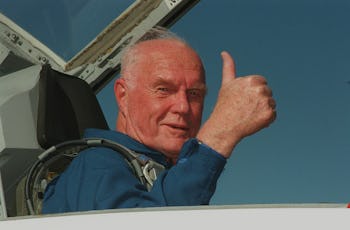 NASA
The phrase "American hero" might get thrown around a little more casually than it ought to, but John Glenn, who died on Thursday at 95 years old, qualifies. The Ohio native, astronaut, and former United States senator was recently hospitalized at the Ohio State University Wexner Medical Center in Columbus after leading a remarkably health and accomplished life.
Glenn, who was born in 1921, in Cambridge, Ohio, served in World War II and the Korean War, where he earned praise for his remarkable piloting abilities. After the wars, he was selected to be one of the "Mercury Seven" — a group of military test pilots who would go on to become NASA's first astronauts. In 1962, Glenn became the fifth person ever to go to space and the first American to orbit the globe when he flew the Friendship 7 mission.
Once Glenn was back on Earth, he ran for senate as a Democrat and won in 1974, where he served for nearly a quarter-century. While he was still a sitting senator, Glenn went back into space on the space shuttle Discovery. At 77 years old, he was the oldest person ever to go to space. He also guest-starred on Fraiser.
In other words, John Glenn was a badass. Here are some of NASA's best photographs of iconic American over his storied career.
In February 1962, Astronaut John H. Glenn Jr. looks into a globe, technically the "Celestial Training Device" at the Aeromedical Laboratory at Cape Canaveral, Florida. Glenn became the first American to orbit Earth that same month.
Astronaut John H. Glenn, Jr., in his Mercury flight suit.
U.S. Sen. John H. Glenn, Jr., gives the thumbs up from the cockpit of a training aircraft as he prepares for his return to space on the shuttle Discovery's STS-95 mission in 1998.
In this 1960 photograph, the seven original Mercury astronauts participate in U.S. Air Force survival training exercises at Stead Air Force Base in Nevada. Pictured from left to right are: L. Gordon Cooper, M. Scott Carpenter, John Glenn, Alan Shepard, Virgil I. Grissom, Walter Schirra, and Donald K. Slayton. Portions of their clothing have been fashioned from parachute material, and all have grown beards from their time in the wilderness. The purpose of this training was to prepare astronauts in the event of an emergency or faulty landing in a remote area.
Mercury astronaut John Glenn stays fit by running on the beach in Cape Canaveral, Florida.
President John F. Kennedy, astronaut John Glenn and General Leighton I. Davis ride together during a parade in Cocoa Beach, Fla., after Glenn's historic first U.S. orbital spaceflight.
Astronaut John H. Glenn Jr., NASA flight surgeon William Douglas and equipment specialist Joseph W. Schmidt leave crew quarters prior to the Mercury-Atlas 6 mission. Glenn is in his pressure suit and is carrying the portable ventilation unit.
John Glenn receives the Presidential Medal of Freedom during a ceremony at the White House on May 29, 2012.
Astronaut John Glenn relaxes aboard the USS Noa after being recovered from the Atlantic near Grand Turk Island after his historic Mercury flight. Glenn became the first American to orbit the Earth on February, 20, 1962 in his "Friendship 7" capsule. The Noa picked him up 21 minutes after impact.
U.S. Sen. John H. Glenn Jr. (D.-Ohio), gets help with final touches of the donning of his partial-pressure launch and entry suit during training at the Johnson Space Center.
A camera onboard the "Friendship 7" Mercury spacecraft photographs astronaut John H. Glenn Jr. during his historic flight on February 20, 1962.
Guenter Wendt, the original pad leader for NASA's manned space program, coaxes a smile out of astronaut John Glenn after the MA-6 mission was scrubbed.
Some of NASA's sixteen astronauts participate in tropic survival training from June 3, through June 6, 1963, at Albrook Air Force Base, Canal Zone. From left to right are unidentified trainer, Neil Armstrong, John H. Glenn, Jr., L. Gordon Cooper and Pete Conrad.
Astronaut John H. Glenn Jr. in his silver Mercury spacesuit during pre- flight training activities at Cape Canaveral.
Astronaut John H. Glenn in the cockpit of a T-106 preparing for training exercises in flight proficiency.