Elon Musk and Jeff Bezos Remember John Glenn
The new space pioneers remember the first.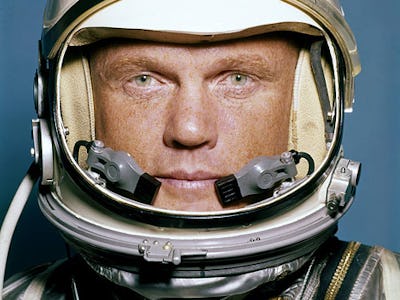 SpaceX CEO Elon Musk remembered pioneering NASA astronaut and pilot John Glenn, who died at the age of 95.
"A life well lived," Musk commented on Twitter, quoting a tweet from NASA that read, "We are saddened by the loss of Sen. John Glenn, the first American to orbit Earth. A true American hero. Godspeed, John Glenn. Ad astra." ("Ad astra" is Latin, roughly translated to "through hardships to the stars.")
Glenn was a U.S. Marine who set the then-record for a transcontinental flight in 1957, when he flew a Vought F8 cruiser from Los Alamitos, California to Floyd Bennett Field, New York in three hours, 23 minutes. It's no longer the record but it's still far better than the average five-hour trip from JFK to LAX today. Glenn of course later went on to become the first person to orbit the Earth in 1962. He wouldn't go back into space until 1997, when at age 77, he joined the crew of the Space Shuttle Discovery. Glenn also served 24 years in the U.S. Senate, representing the state of Ohio.
Jeff Bezos, best-known as the founder of Amazon, but also the founder of Blue Origin, a quietly ambitious aerospace company that's on a different trajectory from although certainly can be seen as a future competitor to SpaceX, also offered condolences: "Thank you, John Glenn. Godspeed," Bezos posted to his Twitter account:
United Launch Alliance, a joint partnership between Boeing and Lockheed-Martin, offered similar sentiments:
The quote, "Godspeed, John Glenn" was first said by astronaut Scott Carpenter, who was capsule communicator for Glenn's trip into orbit in 1962. The lyrical phrase was repeated often over the years, including by President Barack Obama when he awarded Glenn the Medal of Freedom in 2012.
Here's the "Godspeed, John Glenn" clip:
Glenn will be buried at Arlington National Cemetery, reports the Columbus Dispatch.
If you've got literally 62 seconds, this old-time newsreel of Glenn achieving the transcontinental speed record is also worth a viewing: