The Klingon 'Christmas Carol' Is the Best 'Christmas Carol'
It's not parody, it's mythology.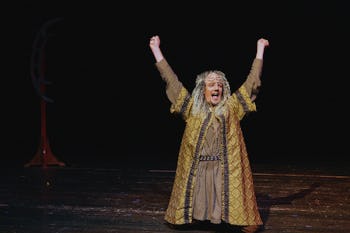 Tis the season to be nerdy. And in Chicago, they're going all-in on the geeky holiday season, with a production of Charles Dickens's classic holiday tale, A Christmas Carol done entirely in Klingon. The lonely curmudgeon Scrooge is known here as SQuja', and he learns the true meaning of the season, only with more fighting, Bat'leths and Star Trek references. While it sounds like a farce, it's actually quite sweet and seasonally appropriate. At its core, the Klingon Christmas Carol is a story of values seen from the perspective of another culture — even if that culture's completely made-up. A Klingon Christmas Carol isn't parody, it's mythology.
SQuja' is a Klingon money lender who's a total coward. He refuses to fight and doesn't embody the Klingon ideals of courage and honor. Over the course of the production, SQuja' is visited by the spirits of dead warriors so he can see how his cowardice affects him and his family, and in the end he resolves to become a better, stronger and more honorable Klingon.
"I'm not a big fan of Christmas, period; I'm sort of like SQuja'," the show's props master Marc Malnekoff told Inverse. "Seeing it from a different point of view, which is the Klingon point of view, it's not about being charitable, it's about honor."
Theater group Commedia Beauregard debuted A Klingon Christmas Carol in Minneapolis in 2007. It originally started as a joke, but has since morphed into a full-scale production, moving to Chicago in 2010, where it's been performed ever since. This year, Orion Couling's E.D.G.E. Orion Theatre Company took over producing A Klingon Christmas Carol after beating out six different Chicago-based theater companies competed to produce the show.
It isn't exactly the Christmas Carol that has been the basis for countless more straightforward adaptations. In fact, you could argue it's the exact opposite. In the original story, a mean and aggressive person learns how to be friendly, but the Klingon one features a quiet and non-confrontational man learning how to fight back. Even though it's a different take on the tale, there are some parallels in how each version strives to bring out the best in a bad person.
But why Klingon? After all, it's a fictional language, and wasn't even used until Star Trek: The Motion Picture in 1979. Marc Okrand, who first invented some Klingon phrases for The Motion Picture, continued to develop it, turning it into a complete language later on (he also assisted in expanding the grammar in A Christmas Carol). This grew into the Klingon Language Institute, an active online community with thousands of speakers all around the world. There are annual conferences and lectures, there are Klingon-translated copies of Shakespeare. Klingon is even being added to Duolingo as one of the app's first fictional languages.
The cast members all had to take a two-week course in Klingon before starting rehearsals. The instructor knew they were mainly learning it so they could correctly recite their lines, but Aly Grauer, who plays the Vulcan Narrator, said he treated the actors like students learning to be fluent in Klingon. Couling adds that it definitely changed how the cast treated the play. They weren't just some actors memorizing a bunch of guttural phrases, but instead a group of actual Klingons.
"When I walk into the space and I listen to the actors … I can't understand anything that anyone is saying," Couling said. "They're laughing and they're joking and they're creating within the world, and it's an alien world to me and they have to explain it to me. And thats incredible."
Technically, it's all fake, but to fans of A Klingon Christmas Carol, it doesn't really matter. After all, as Grauer pointed out, Greek mythology was originally seen as religious text, but now it's just as fictional as A Christmas Carol. Even though Greek gods have become more myth than fact, people still read and study The Odyssey, not because it's real, but because it's a good story. The way Klingon speakers see it, the language and this production become real through the people who share the culture and believe in what it represents.
"When does it stop being make-believe and when does it take on its own life?" Grauer asks, rhetorically. "Once you give something a voice like that, you don't have a choice. It is what it is. If there's a language, and there's people speaking the language, it kind of doesn't matter if the culture is made up. That piece of culture is alive."