Queenie and Jacob's Grandson Was a Famous Quidditch Player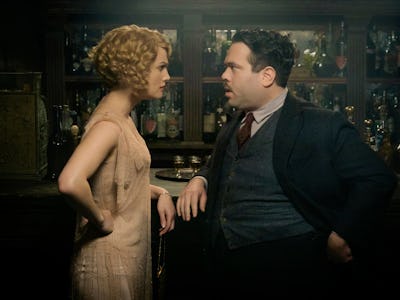 The Leaky Cauldron
Queenie Goldstein and Jacob Kowalski broke a lot of rules running around New York City as they helped Newt Scamander track down his fantastic beasts. But the name of a 21st century Quidditch player might be proof that they went even further by breaking a key law of the International Statute of Secrecy after Fantastic Beasts and Where to Find Them.
This post contains spoilers for Fantastic Beasts and Where to Find Them
According to an article written by Ginny Weasley in the Daily Prophet and released on Pottermore, Quentin Kowalski was a Chaser for the 2014 American National Quidditch team. He scored the final goal before the Jamaican team's keeper toppled off her broom, subsequently winning the match!
Kowalski is obviously Jacob's surname, and Quentin sure sounds a lot like a male version of Queenie. So, if Jacob and Queenie had gotten together in the 1920s and had a family, then Quentin is possibly their grandson. And he would have been the perfect age in 2014 to be a Chaser on the American Quidditch team.
So, when Queenie went to visit Jacob at the end of Fantastic Beasts and the two smiled across a crowded room at each other, that probably wasn't just a cute aside. There's a real chance it was an indication from J.K. Rowling of something more to come, even if that something happens off screen.
Audiences will be seeing more of Queenie and Jacob in the second installment of the Fantastic Beasts series, so maybe everyone will get a look at the beginnings of their family. This little wink from Rowling is simply more proof of how much planning the author does in advance and how much she cares about these characters.
Fantastic Beasts and Where to Find Them is now in theaters.