'Fantastic Beasts' Reviews Praise Rowling's Rich New World
Critics say 'Fantastic Beasts' builds a worthy 'Harry Potter' successor.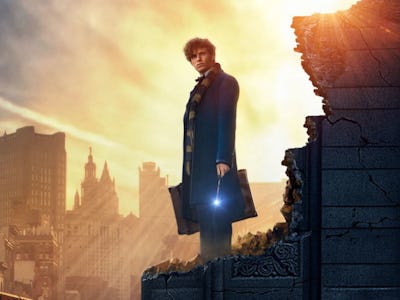 Warner Bros. Pictures
J.K. Rowling's Fantastic Beasts and Where to Find Them is the first film in a planned series of spin-offs for the Harry Potter universe to hit theaters. It will be interesting to see if Rowling's magical universe can carry on without its bespectacled hero and posse of wizard classmates.
Instead, Fantastic Beasts shifts the setting to a magically roraing 1920s New York City, where a fresh-faced Eddie Redmayne takes up the hero mantle as Newt Scamander, a scientist and magical wildlife taxonomist. The early reviews for the film are in, and the critics agree that while new stories in J.K. Rowlings world of witchcraft and wizardry is worth exploring, Fantastic Beasts might feel a bit too similar to the Harry Potter movies of old to be revolutionary.
The Guardian was ecstatic in their review of the movie, praising J.K. Rowling's decision to go "steampunk":
Fantastic Beasts is a rich, baroque, intricately detailed entertainment with some breathtaking digital fabrications of prewar New York City. This is Steampunk 2.0, taking its inspirations from Terry Gilliam's Brazil or Howard Hawks's His Girl Friday but the New York she creates also has the dark, traumatized look of Gotham City.
Likewise, Indiewire considers the film another success in one of pop culture's greatest franchises, highlighting in particular the novel new setting:
But the real star of Fantastic Beasts is its heavily stylized, period-specific setting. From a seedy jazz club filled with outrageous beings to an explosive showdown in Manhattan's old City Hall subway station, the movie captures a New York that's at once nostalgic and otherworldly. Cinematographer Phillipe Rousselot — a world away from the neon-drenched scenery he captured in "The Nice Guys" earlier this year — constructs a grayish palette bordering on sepia that imbues each shot with nostalgic elegance, while legendary costume designer Colleen Atwood nails the formal attire of the era.
The Telegraph praises the film as a fantasy blockbuster, and credits Eddie Redmayne as a great new protagonist in the Harry Potter universe:
Though Fantastic Beasts is genealogically linked to Harry Potter, with nods and winks sprinkled like cake crumbs throughout the script, in practice there's no particular reason it had to be. Exhibit A is Redmayne, whose Newt doesn't feel like any other personality in Potteriana: from his bashfulness to his stammer and gloriously impractical fringe, he's a sore thumb in a cobalt greatcoat, and his company's addictive.
Meanwhile, Variety happens to find some contemporary commentary within Fantastic Beast's allegory of prohibition era New York:
Though Rowling takes the opportunity to introduce a few tolerance-oriented messages, one can't help but question the limits of the allegory: In the real world, bigots don't have a real reason to hate members of other races and religions, whereas wizards — however much we love them — pose a very real threat to normal people (grisly Obscurus attacks result in at least two deaths, and the destruction of large swaths of New York). It's the same logical flaw that operates in both the Avengers and X-Men franchises, and Rowling doesn't have much to add … yet.
Lastly, Empire echos the sentiments of many other reviews when it says the film sometimes gets bogged down by tedious world-building:
But the film has some structural problems. Rowling's varied beasts are fun, and brilliantly realised by the effects team, but they're ultimately a sideshow, and the numerous action sequences to capture each one can drag. The sight of Oscar winner Redmayne performing a mating dance for a giant hippo-monster will stay with you, but it's not what we need to see when there are truly dastardly dealings afoot across town. It's only in the last act, when Newt focuses on the real threats and discovers the mystery to solve, that the film soars, like Newts glorious thunderbird Frank, into the heavens.