'Atlanta,' 'Better Things' and the Rise of Intimate Comedy
New comedies 'Atlanta,' 'Better Things', and 'One Mississippi' all showcase how effective personal comedies can be.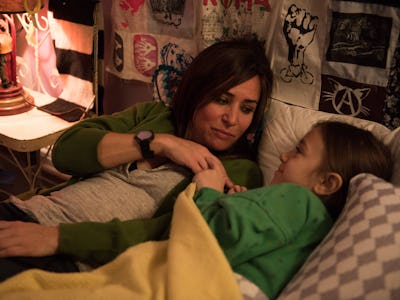 Atlanta, Better Things, and One Mississippi — all of which premiered this week — each exhibit an endearing sense of intimacy that isn't often found in television sitcoms – even within comedies that tend to skew more drama than big laughs. While watching the first few episodes of each of these debut seasons, there are scenes where it feels like you're peeking in on private moments.
Perhaps some of this is the benefit of this rise in multi-hyphenate, almost auteur-focused television. In Atlanta, star Donald Glover is also creator, writer, music executive producer, and, in upcoming episodes, director. As for Better Things, star Pamela Adlon serves as co-creator, writer, director, and executive producer. The result of being involved in virtually every aspect of one series is that the episodes tend to feel more personal and realistic. (One Mississippi is a bit different here; Nicole Holofcener takes on directing duties).
Take Atlanta, which has its own distinct feel that is the result of the combination of every production aspect Glover touches. It's most seen in Glover's depiction of Atlanta, which turns the city from a setting to the scaffolding of his memoir. There's something deeply personal about the way his character, Earn, knowingly walks the streets or takes the bus. There are memorable specifics in even the smallest characters that pop up along the way: an employee at a local BBQ joint; a mentally ill man at the police station; a trio of children imitating Paper Boi while playing with toy guns.
When Atlanta begins to lose its uniqueness, it's when the series goes too broad, such as in an upcoming episode about an exaggerated vlogger. Atlanta really shines when it sticks to a quieter, narrower focus. This is seen particularly within the unique-for-television relationship between Earn and his baby's mother Van (they have a child together, they sort of live together (but he's also sort of homeless), and they love each other but aren't together; she dates other men). It's seen in smallest of moments between the two: her deliberately slow — and almost reluctant — movements to unlock the car door after bailing Earn out of jail or their intimately casual morning-breath cuddling.
As for Adlon's Better Things, the intimacy is devoted to family — specifically Sam (Adlon) and her three wildly different daughters (Mikey Madison, Hannah Alligood, Olivia Edward), two of whom almost exclusively respond to their mother with frustrated groans and exasperated sighs. The series is loosely based on Adlon's real life (she's a working mother of three daughters) so it's only natural that she have her hand in every part of it. Even her real daughters are involved and helped cast the daughters in the series. Adlon, along with co-executive producer Louis C.K., wrote the majority of the first five episodes screened to critics and it shows. What stands out are the intimate bits of personal details, right down to a throwaway shot in the Adlon-directed "Period," which reveals that Sam keeps her combat boots on during a gyno appointment.
Better Things has a meandering feel to it (C.K.'s involvement is heavily felt) but it only amplifies the overall quality of the series. Instead of building multi-episode narrative arcs, Better Things prefers to build its world and characters, seemingly jumping at random from scene to scene and setting to setting but without feeling disjointed. The digressions aren't jarring but part of the story: jolting awake in a car, walking into a trashed house after a party, rushing away from the mother you just aren't equipped to talk to that afternoon.
This brand of intimate comedy isn't reserved just for FX — though the network certainly seems to prefer it: Louie, You're The Worst, Married. But it's Amazon that might be the home of the most intimate, honest, and heartbreaking new comedy of the fall season: Tig Notaro's One Mississippi. Based on a complicated and, well, pretty depressing time period in Notaro's life, One Mississippi begins as an extremely sick Tig also has to deal with the death of her mother. The series is deeply personal some details, such as Notaro's occupation, are changed but the core elements are taken directly from her real life — and Notaro portrays some of the most devastating aspects her life completely candidly. What's most remarkable is how she finds humor in these intimate details: when it comes to depicting her double mastectomy, Tig and her girlfriend (Casey Wilson) absently wonder what happened to her Tig's breasts after surgery ("Like, where did the doctors put 'em when the took 'em off?). In one of the pilot's realest moments and trust, this is a show that is full of real moments — Tig wonders what to do after her mother dies but it's not in terms of the existential but instead quite literally wondering if she is allowed to go home: "What happens now? Do I just leave?"
Notaro's One Mississippi (co-created with Diablo Cody) is a prime example of how effective intimate comedy can be. The pilot (and the rest of the series, which is now available on Amazon) is laugh-out-loud funny but I hardly know anyone who didn't cry watching. It's the sort of comedy that works because it's so true and close to Notaro. As with Atlanta and Better Things, the best bits come from the personal.