Bill Nye Is Getting His Own Netflix Talk Show in 2017
"I've been on a mission to change the world."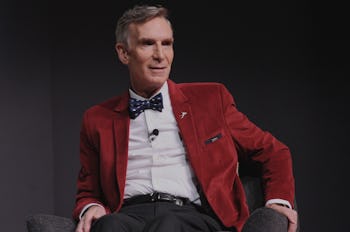 Getty Images / Craig Barritt
Netflix has announced that it will premiere Bill Nye's long-awaited return to television with a new show hosted by the scientist, entertainer, and activist. The new show, titled Bill Nye Saves the World, will blend the host's passion for science and politics in a new talk show format.
Since the end of his Emmy award-winning educational show Bill Nye the Science Guy, Nye has been a vocal activist for climate change, evolution, and other matters of hard science.
"Since the start of the Science Guyshow, I've been on a mission to change the world by getting people everywhere excited about the fundamental ideas in science," Bill Nye said about his upcoming Netflix series. The original Bill Nye the Science Guy ran from September 1993 to June 1998 on PBS, and Nye would sign off with "Well, that's our show."
The show will allow Nye to talk about important matters in the scientific community through his "unfiltered style." There will be special guest appearances, segments where Nye will conduct experiments and demonstrations, and tackle important topics like vaccinations, GMO foods, and climate change.
Bill Nye Saves the World has also assembled a talented writing team which includes showrunner Michael Naidus (The Late Late Show with Craig Ferguson), noted astronomer and author Phil Plait as Head Science Writer, and standup comic Mike Drucker as Head Comedy Writer. Drucker, who has written on the Tonight Show, SNL, and Nintendo went to Twitter to voice his excitement at writing for the show:
Netflix announced that Bill Nye Save the World will premiere in the Spring of 2017. With the politicization of science — see: Ted Cruz — since his original show went off the air in 1998, this Netflix series is bound to have a little more, uhh, gravity: