7 Great Olympics Movies to Help You Forget Rio Is a Shitshow
Shhh, close your eyes and pretend its 1988 again.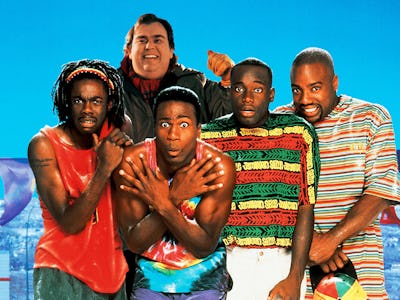 BBC
Another Olympic year, another bombardment of horror stories about corruption, crumbling infrastructure, and unfinished construction. Add in Zika, and sewage, and they don't even have Pokemon Go. We'll probably still get sucked in to loving the games in Rio de Janeiro, but for now, we're feeling conflicted about it, so let's watch movies instead.
There's been a sad dearth of good Olympic movies in the past two decades, but we rounded up a few picks for you, including the best offering from 2016. Maybe Rio will deliver some biopic worthy moments that don't involve tragic sewage-related deaths.
Eddie the Eagle (2016)
This recent release starring Taron Egerton (Kingsmen) as England's beloved Olympic loser is destined to be as goofy and memorable as its namesake. For the uninitiated, it tells the story of Eddie Edwards, a doggedly determined aspiring athlete who is so determined to get to the 1980 Calgary Olympics, he becomes a ski jumper purely because no one else in the country is vying for that spot.
Eddie became an icon for his enthusiasm and working class affability. The film took considerable liberty to make Eddie seem clumsier and lamer than reality, but true to form, the real Eddie don't care. He loved it, even though he calls it "10% accurate". It's not the most masterful film every made, but it's damn delightful.
Downhill Racer (1969)
A rare Olympic movie that isn't fluffy or uplifting, but rather stars a young Robert Redford as a skiing hotshot who's pretty much just an asshole. It's more of a real human drama about a cocky young womanizer, with some skiing thrown in. The downhill sequences are actually quite thrilling. It's worth it for some peak, early Robert Redford.
Goldengirl (1979)
If you can't handle sports without a side of sci-fi, this film about a scientist who engineers his daughter to be a super athlete. It's a bit of a ridiculous premise, especially in the era of doping scandals, but it adds some exceptional intrigue and corruption drama to a human story about an athlete's struggle under pressure.
Chariots of Fire (1981)
This is one of the greatest Olympic movies of all time. It's also fairly historically accurate, and focuses on the lives of Harold Abrahams and Eric Liddell, runners who met in 1924 Olympics in Paris. Both runners are motivated by religious faith and their very different upbringings. It's a rare cerebral sports story, and a classic.
The Jesse Owens Story (1984)
Another classic. If you want Olympic history, watch this biopic of Jesse Owens, the greatest American track & field athlete of all time. His success as an African American in 1936, at the Olympics in pre-WWII Berlin, adds to the momentousness of his place in history. He is also the subject of a recent film called Race, which is decent. For the darker, historical side of those Nazi-tinged games, watch Berlin 36.
Miracle (2004)
Remember that great movie with Kurt Russell as the coach of the 1980 American ice hockey team? It deserves a rewatch from anyone looking to get in the Olympic spirit. It tells the story of how the US beat the Soviet Union, which was significant for a lot of reasons. One, the US was traditionally not that great at hockey. More importantly, the US has always loved beating the Soviets, and in 1980 that was pretty much the most important thing ever. Sports! Underdogs! Kurt Russell!
Cool Runnings (1993)
Sure, you've already seen the best Olympic movie of all time, but now would be a great time to watch it again. Cool Runnings, the quintessential early 90s underdog movie about Jamaican bobsledders, is the ideal combination of funny, goofy, and uplifting. It's pretty much the perfect sports movie. It made a whole generation know about and care about bobsledding. The story is set at the 1988 Calgary Olympics, the same games that saw Eddie the Eagle, so that must have been a fucking wild year.